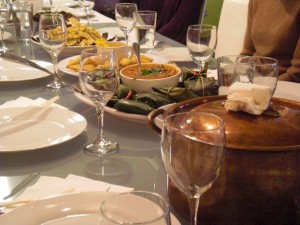 A new month at Parties That Cook means another Cookbook Club potluck lunch! This month's featured cookbook is New American Table by Marcus Samuelsson, a native of Ethiopia who was raised in Sweden and moved to the US over 20 years ago. New American Table was voted best overall cookbook of 2009 by Epicurious, which made it a great candidate for the Cookbook Club.
With its liberal use of flavors and spices like cardamom, ginger, tamarind, soy, and coconut, New American Table banished any thought of what we considered "American Food" from our lunch table. Each dish was a melting pot of flavor, providing a great perspective on the meshing of various ethnic cuisines that often takes place in American kitchens – the adventurous ones, at least.
Roasted Nuts with Dried Sour Cherries: Taken from the Snack section of New American Table, Patty picked this dish because it requires few ingredients and can be made in less than 30 minutes. Almonds and walnuts are mixed with paprika and brown sugar and roasted in olive oil, then sprinkled with mint and tossed with dried cherries. It's an easy to make and even easier to eat snack that can be mixed and matched with a variety of nuts, spices, and dried fruits.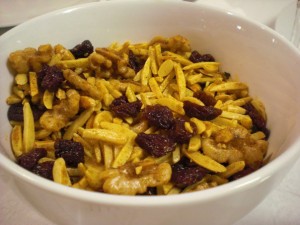 Jicama-Radish Salad with Chive Dressing and Miso Chips: Esther had originally planned to make the Grapefruit-Radicchio Salad, but noticed a critical error in the recipe. Aside from its appearance in the title of the dish, the grapefruit is conspicuously absent from the ingredient list and recipe instructions. Oops! She turned instead to the Jicama-Radish Salad. The cool crunch of the jicama and granny smith  apples, along with the refreshing taste of the chive dressing made for a hit with the entire table. The miso chips – made with miso, nori and chili powder– were incredibly salty on their own, but paired well with the salad.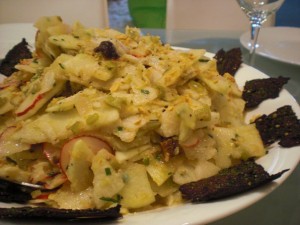 Spiced Rice: Maureen's spiced rice, which incorporated almonds, raisins, Greek yogurt, saffron, cumin and cinnamon was another big success. There were a few substitutions and liberties taken here and there – I seem to recall some mention of lemon Pellegrino making its way into the pot. Regardless of what went into the pot, the end result was truly delicious. The crunch of the almonds was a pleasant surprise among the softer texture of the rice and raisins.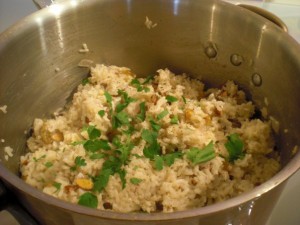 Empanadas with Peanut Mango Sambal: Crissy was concerned everyone may prefer the traditional crispy empanada shell to the more bread-like exterior created by the yeast dough used in these empanadas, but they flew off the plate at record speed. The beef and pork stuffed empanadas were a great match for the flavor packing ginger-coconut-coriander-peanut-mango dipping sauce. Marcus Samuelsson is certainly not shy with the spices.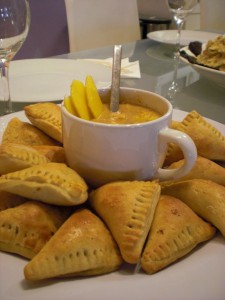 Yogurt-Steamed Halibut: With perhaps the most elaborate ingredient list and methodology, Bibby's recipe took five full hours to prepare. The recipe called for halibut, but Bibby opted for seabass instead. The fish and yogurt are wrapped in banana leaves with lemon and shitake mushrooms, then steamed. The spicy tomato sauce was an undertaking in itself, with at least 15 ingredients. The visual effect of the deep green banana leaves with the rich red tomato sauce was stunning.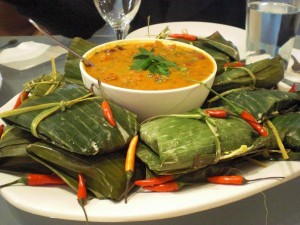 Beer-Braised Short Ribs: Beth loves making short ribs, and picked this recipe because it provided a new and interesting twist on one her old favorites. Many of us have had beer-braised short ribs, but only a few have tried them with soy sauce and ginger. The ribs soak in the soy sauce and beer overnight, and are then cooked in another mixture of beer, soy sauce and spices for about 3 hours, until the meat is literally falling off the bone. These short-ribs were a fun spin-off from standard American fare.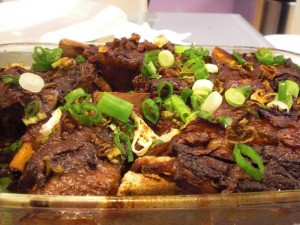 Banana Bread Pudding with Hazelnut Kulfi: We all make mistakes in the kitchen, but only a true chef can take a mistake and turn it into an even better dish. Michelene managed to do just that when she accidentally left the bananas out of her banana bread pudding. She opted instead to caramelize and drape them across the brioche, raisin and chocolate packed pudding. Far from traditional, this bread pudding uses no custard; coconut milk serves as the only liquid in this interesting rendition of the classic. Moving even further from tradition, the kulfi, or "easy ice cream", is actually a mixture of evaporated milk, sweetened condensed milk, cream white bread and a variety of spices pureed together and frozen. It made for an interesting taste and texture, and I think a few of us are still trying to wrap our minds around it.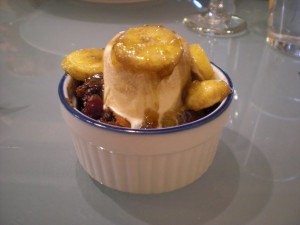 Spiced Melon Granité with Melon: On a quest for something different and absolutely unordinary, Suzanne picked the Spiced Melon Granité. We got an unexpected kick in this dish when she substituted spicy curry in the sweet curry topping. The combination of icy watermelon, frozen melon balls, grapefruit, black pepper and spicy curry was truly like nothing any of us had ever tasted before.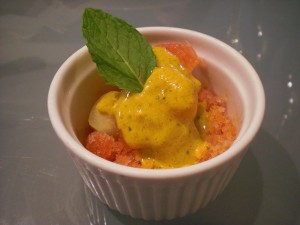 And last but most certainly not least, the PTC team had a few contibuting guests at this month's Cookbook Club. Amro keeps the computers in the office running smoothly, and he'll always be a welcome member at the PTC table, especially with contributions like the soda bread from Mazzetti's Bakery in Pacifica. We tried one with raisins and one without – both were delicious. And of course, no meal is complete without good wine. We were lucky enough to sip on some of the best, courtesy of our friends Stu and Hayden from Crushpad. Thank you to all of this month's contributors, and looking forward to another delicious Cookbook Club next month!