Hello again, my long lost friends!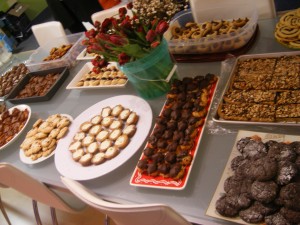 I realize it has been a couple of weeks that our blog posts have been MIA, but I promise it was for a good reason! We've been busy incorporating feedback, perfecting our events, and putting fail-proof systems in place in anticipation for the madness of the holiday season. Here at Parties That Cook, the final few weeks leading up to Christmas are easily the busiest (and craziest) of the year! With some days packed with as many as 10 events, much preparation is needed to ensure smooth sailing. On the busiest of days, it is truly amazing to see all the moving parts that go into pulling off a successful event working together!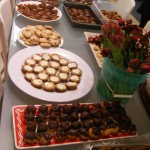 Aside from all our events in the field, the PTC office staff was busy in the kitchen! This December we squeezed in a cookie exchange AND a cookbook club meeting! As expected, there wasn't a cookie I didn't like. A self-proclaimed cookie fiend, I was surprised to find myself all cookied out by the end of the day. In my defense, after trading for over 3 dozen cookies, who wouldn't be? Details on the cookies made for the exchange coming soon!
The featured cookbook for December's cookbook club was Tyler Florence Family Meal. The recipes made for a diverse and delicious meal! There was an abundance of food, and no clear choice for a group favorite –trust me, that's a good thing. The dish on the evening's dishes as well as the Parties That Cook Holiday White Elephant Gift Exchange Bonanza –or as it's fondly referred to: the PTCHWEGEB –coming soon as well!
We REALLY appreciate our clients and vendors who have helped make this a busy and fruitful December. And we are SO grateful for all our wonderful chefs, servers and dishwashers who worked so hard to make each and every event a success! Happy Holidays from the Parties That Cook Team –but don't worry, there will be another blog this week…