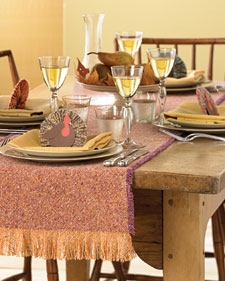 Thanksgiving is approaching so bring out the seasonal garland, gourds and get ready for the tryptophan induced food comas!
One of tastiest turkeys I have ever had was created from our Parties That Cook team. This brined turkey recipe calls for soaking the whole bird in a brine which is essentially a solution of salt and sugar, flavored with spices. Brining the turkey helps even the white meat stay moist and flavorful when roasted to perfection. But if you don't have time or the space in your fridge, our easy 3-step turkey breast is the perfect solution. You're guests will not believe how quick and easy this dish is!
Can't decide which side dishes to create? Here are some of our favorite Thanksgiving recipes that are a delicious departure from the traditional spread of pureed root vegetables and pearled onions:
Sweet Pea Galettes with Bacon and Sour Cream Recipe
Butternut Squash and Cider Soup with Sage Crème Fraiche Recipe
Easy Spinach and Roquefort Bread Pudding Recipe
And the gravy! Quite possibly the best part of Thanksgiving (a three-way tie between the turkey and stuffing of course). Try this recipe: Pan Gravy with Bourbon Recipe
In my opinion, the food alone serves as the perfect Thanksgiving decoration, but here are some easy tips to spruce up your spread: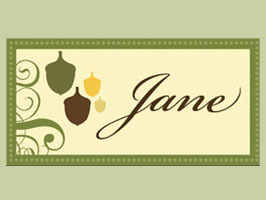 Place Cards: HGTV.com has created the perfect touch for your table with these printable place card designs. Print them onto cardstock and write your guests' names for each table setting.
Fringed Tweed Table Runner: Tweed is not only a fall trend in fashion, but in holiday tabletop decorations as well. This rustic design from the craft guru herself, Martha Stewart, is an inexpensive and simple design element for any table.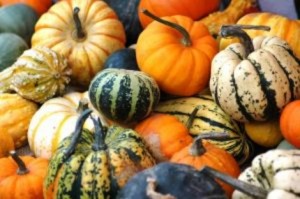 Gourds, Gourds and more Gourds: Of course, the quintessential fall decoration cannot be overlooked! Gourds and pumpkins add the finishing detail to your Thanksgiving spread. Place them at your front door and use Indian corn or acorns for an extra autumn touch.
Got any favorite tips and recipes? Share them with us! Check out the rest of our favorite recipes. Until next time, bon appétit!