This post is Confessions of a Parties That Cook Dishwasher, Part II. One of our tenured staff members reflects on one of her favorite corporate team building events from way back when…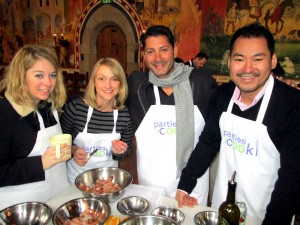 The party that I remember with great fondness was the last party in the Glory Month of the Glory Year: December 2007. We had 60 events that month, a phenomenal record. My last event of the month was at Thomas Fogarty Winery. The guests were a corporate group that was disbanding after completing a major project. After 5 years as a team, this Parties That Cook event was the last time they would all be together.
After the meal was made, they sat down to eat, drink and be merry. When the meal ended, each person at the table reflected on what the past five years had meant to them. Finally, as the sun was setting, Dr. Suess' book, "Oh, the Places You'll Go" was passed from person to person. Each one read a passage from the book starting with, "You're off to Great Places! You're off and away!" and concluding with,"Your mountain is waiting. So…get on your way!" I teared up as I heard each person read from the perfect book to end a chapter in one's life before moving on to the next. I felt honored to be part of this last team effort.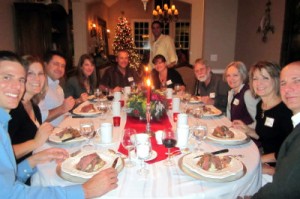 As 2013 comes to an end, I have finally achieved what I've waited six years to do: break my old record of 17 events in December 2007 with 18 events this December. I feel very grateful to live in the Bay Area. The strong economy from which we derive much of our business is due largely in part to the thriving tech industry, and I look forward to an even more robust 2014 with Parties That Cook.