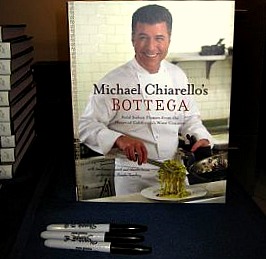 Earlier this month, guests attended what they thought was our normal Kitchen Challenge event. Little did they know that they would be joined and later judged by none other than Chef Michael Chiarello! You may remember that we featured his book, Bottega, in a past cookbook club, but if not, get the scoop here!
Chef Chiarello skipped a big introduction and surprised the guests by simply sneaking in and wandering around the kitchen while the teams were cooking. Try holding your composure when you have such an accomplished chef-lebrity walking around!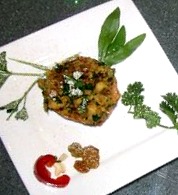 After the cooking, teams elected a spokesperson to present their dishes to Chef Chiarello one at a time. The spokesperson from each team explained why their team should win while our guest judge took his time tasting each dish. Chef Chiarello then thoroughly described what he liked about each dish and what the teams could do differently next time. (One of the keys to great cooking is making sure certain flavors do not overpower others!)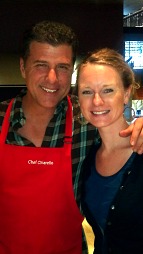 From the Moroccan Bisteeya to the Mexican Chocolate Chipotle Cookies with Smokey Salted Caramel Centers, it was a great menu. Everyone gave a valiant effort, but ultimately, the winner was the Mini Arepas with Oaxaca Cheese and Jalapeno Marmalade team — by a margin of 1 point! At the end of the event Chef Chiarello stuck around and was nice enough to sign cookbooks and take photos with guests (and Rosie). I'm sure everyone at PTC wished they could have been a part of this event!
Which celebrity chef would YOU like to see at a Parties That Cook event? Would your team be able to keep their cool under the pressure from this guest judge? Let us know!