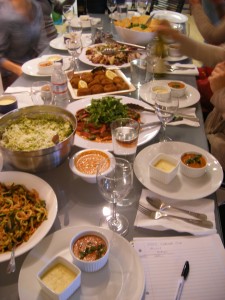 Yesterday the Parties That Cook office was filled with aromas that would make any mouth water. Lucky me, I get to be involved in a cookbook club with a bunch of professionally trained chefs! This month, Traci selected Michael Chiarello's Bottega. If his name sounds familiar, wait to you see his picture. Chef Chiarello hosts a few different TV shows, but is most known for his Emmy-winning Food Network show. Named after his most recent Napa Valley restaurant, Bottega offers 100 recipes, loads of pictures, and some great tips for the not-so-professional home cook. With a variety of recipes for each course of the meal, you don't have to worry about running out of options.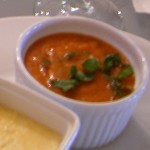 Papa al Pomodoro (Tomato-Bread Soup): Cassandra was the first to present her dish. She had initially opted to do the Chicken Wings Agrodolce, but after a disappointing test-run, went with her second choice. I think I speak for everyone when I say we are SO glad she brought this in! Everyone raved about Cassandra's Tomato-Bread Soup, which was deliciously thick and full of flavor even without the use of a food mill. A quick warning would be that the final step calls for 3 cups of olive oil, which tends to separate, and detracts from the soup's visual appeal.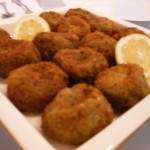 Pesto Arancini Stuffed with Mozzarella: Beth was next up to deliver her take on this "Tantalizing Snack". These were delicious! Although Beth used her own pesto recipe and made her own risotto, she noted that the recipe read just right. This is a great dish for next-day events, as you can refrigerate and easily reheat in the oven! I made sure to get a copy of this recipe for my own future experimentation.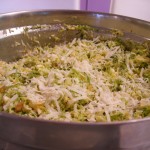 Shaved Brussels Sprouts Salad with Marcona Almonds and Pecorino: Traci attempted this Winter salad, and arrived with a mountain of Brussels sprouts despite not using the entire recipe! If it feels like 6 dozen Brussels sprouts is way too much, go with your gut! Traci only used about 4 dozen. Though she lacked the recommended equipment called for in the recipe, she found the side notes very helpful in providing alternative methods of preparation. Chef Chiarello's notes also gave her the heads up to chill the shaved Brussels sprouts, egg and vinaigrette, making execution much easier and more successful.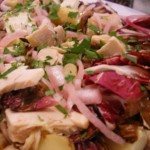 Grilled Radicchio Salad with Tuna Conserva: Crissy chose this recipe because of her favorable encounters with Tuna Conserva in the past. Unfortunately, she found this recipe to be too much effort for the resulting dish. The Tuna Conserva, when all is said and done, bears resemblance to canned tuna. And while she loved the flavor of the vinaigrette, much of it is lost in the grilling. It might be a good idea to hold some of the vinaigrette back for drizzling at the end, though this is not suggested in the recipe. Chef Chiarello speaks of America's disregard for bitterness compared to Italy, which might explain why the Radicchio is still bitter after the soaking. Crissy admits that the flavor mellowed over time, so it could be that it would have continued to mellow had we eaten it later. (I wish I could try Bottega's version of this; it would help to have something to compare to.) Overall, this was a good recipe, but Crissy still did not love it.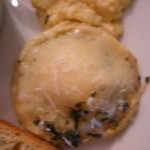 Potato Gnocchi Ravioli with Egg Yolk and Sage Brown Butter: Suzanne presented this dish having substituted spinach for the Swiss chard (a provided option in the recipe). The only deviation from the recipe was her not letting the dough rest for 30 minutes. Suzanne had no difficulty with this dish –she was able to complete this recipe the morning-of!  Though Suzanne wished for a light sauce to mix with the egg yolk, everyone enjoyed the richness of this dish, usually served one large ravioli at a time.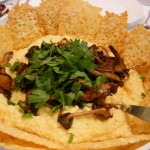 Ancient-Grain Polenta with Mushrooms and Balsamic: Rosie signed up for this 4-part endeavor. The polenta "under glass" was a success, as were the delicious and flavorful mushrooms (my favorite part!) and parm crostini. For the mushrooms, Rosie added a little variety using two kinds of mushrooms. Both turned out wonderfully! Everyone enjoyed the parmesan crisps whose salty flavor went well with the polenta. Once again, however, Rosie was plagued by a recipe that was not correctly scaled. She was left with an abundance of a balsamic sauce she was not a fan of to begin with! Rosie ultimately recommended against adding it to the polenta, which she felt left the polenta needing "something else".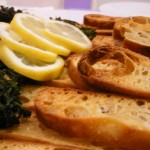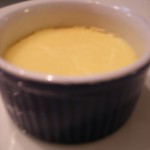 Budini de Pecorino Fulvi with Oven-Roasted Rapini: Bibby was inspired to take on this recipe after having first tried it at Bottega. She actually said it was pretty easy to duplicate –but then again, she is a chef. The only deviation Bibby made from the recipe would be adding garlic to the crostini. The sautéed and roasted broccolini were great complements! The Pecorino Pudding was incredibly rich, but that just meant it fit in with the rest of the dishes of the day!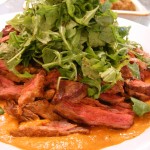 Smokey Paprika Skirt Steak with Salsa Rossa: Overall, Michelene was not too happy with this dish. Although the Salsa Rossa only called for one Serrano chile, it was found that even that was too much. The outcome was a sauce that was overpoweringly spicy, and led Michelene to add cream to make it milder.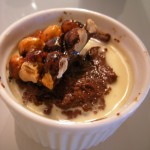 Molten Chocolate Cake with Hazelnut Crème Anglaise: Erin had the misfortune of selecting this seemingly simple recipe. After basically taking on a second job to complete the dish (6hrs!), the desired results were not achieved. While the flavors were great, and the Hazelnut Croccante a crowd favorite, the Crème Anglaise was definitely not thick enough, the Tartufi (truffles) never quite set, and flour confusion in the recipe led to cake batter than was more like cookie dough. The cake came out more like a brownie, but was still incredibly rich. Unfortunately, the overall rating of this recipe: Not user friendly unless you have experience with each component, and know what it takes to make a molten cake.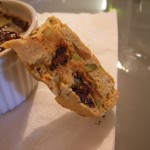 Biscotti with Pistachios, Dark Chocolate, and Fennel Seeds: Finally, we reach the last recipe of this long list. No wonder we all left the lunch table feeling an overwhelming desire to nap! Carolyn followed the recipe exactly, although she found that the initial bake took longer than expected. A solid recipe overall. Carolyn escaped with no major complaints except that she wanted more fennel seed flavor. And everyone loved these biscotti! I thought we would be lucky enough to have some for the rest of the week, but low and behold, it's only the next day and they have ALL been devoured! We have to start the morning off right, don't we?
Bottega promises "Bold Italian Flavors from the Heart of California's Wine Country," and let me tell you, it delivers. This must have been one of Parties That Cook's most colorful and richest cookbook clubs ever! Many recipes work well just as they appear in the book. In such cases, the results are phenomenal! Unfortunately, this cookbook written with restaurant recipes also includes instances of restaurant scaling and kitchen gadgets, making certain items a little more difficult to cook. In the introduction, Chef Chiarello writes of practicing these recipes over and over again before straying from them. That is all I can recommend for some of the recipes that are not written for your beginner cook.