We are smack in the middle of San Francisco's Cocktail Week! Presented by the Barbary Coast Conservancy of the American Cocktail, and in its third year, SF Cocktail Week is prided as the World's First Cocktail Week. Cocktail fans and aficionados can attend various special events such as classes on cocktails, booze-related educational seminars, a cocktail crawl, distillery tour, and cocktail cookout! Check out the full schedule of events here.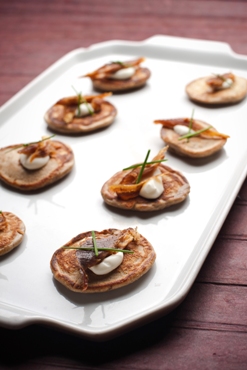 Of course, this week is also choc full of cocktail parties. But why should the fun end after this week? Throw your own cocktail party, and keep the fun going until those Holiday parties take over! Keep in mind, guests need to eat. Solution: an appetizer of Buckwheat Blinis with Smoked Trout and Sour Cream. Trust me, they are AMAZING, and are sure to be a hit with co-workers, friends, and family! Be sure to save this recipe, because Buckwheat Blinis transition seamlessly from Fall to Winter Holiday parties.
Buckwheat Blinis with House Smoked Trout and Sour Cream
This Parties That Cook recipe can also be found here.
Ingredients
Trout Brine and Smoke Mixture
1 cup kosher salt
2 quarts of water
2 whole fresh trout (about 6 ounces)
1/2 cup raw rice
1/2 cup brown sugar
2 sticks cinnamon
4 large strips of orange rind
Buckwheat Blinis
1 cup all-purpose flour
1/2 cup buckwheat flour
2 teaspoons sugar
1/2 teaspoon baking soda
1/2 teaspoon kosher salt
4 large eggs, separated
1 cup milk
6 Tablespoons unsalted butter, melted
Garnish
1 cup crème fraîche
2 teaspoons lemon juice
1/2 teaspoon kosher salt
Chive tips for garnish
Methods/Steps
Brine: Dissolve salt in water in a large bowl. Place the fish in brine. Let the fish soak in the brine for 20 minutes. Remove from brine, pat dry.
Smoke Trout: Line a 12-14 inch wok with aluminum foil, allowing 4 inches of overhang to seal around lid. Put rice, brown sugar cinnamon and orange peel in the bottom of the foil lined wok. Set a round cake rack or pan about 3 inches above the smoking mixture (you may need to make a ring from foil to support the rack). Cover the rack with a piece of foil and place the trout on the foil in a single layer. Place the cover on the wok, crimp the overhanging foil around the lid to completely seal the wok and to prevent steam from escaping. Turn the heat to high, smoke for 10 minutes then turn off the heat and leave for another 5 minutes. Remove trout from smoker and remove skin from the trout. Gently pull the flesh off the bone and break the meat into small pieces. Set aside.
Blini Batter: In a large bowl, whisk together the all-purpose flour, buckwheat flour, sugar, baking soda and salt. In a small bowl, whisk together the egg yolks, milk and melted butter. Pour into flour mixture, whisk just to combine. Set aside.
Beat Egg Whites: Using a hand or stand mixer fitted with the whisk attachment, beat the egg whites until they hold soft peaks. Gently fold the egg whites into the batter. Do not over mix. Some egg white can still be visible.
Cook Blinis: Heat a large non-stick skillet over medium heat. Coat pan with cooking spray. Drop 1 heaping tablespoon of batter into skillet for each blini.(Make the blinis the size of a silver dollar).  Cook until blinis are covered with holes and have set, 1 to 2 minutes.  Flip; cook until brown, about 1 minute more.  Repeat with remaining batter.  Keep finished blinis warm by covering loosely with foil.
Garnish: With a fork, mix together the crème fraîche, lemon juice and salt.  Adjust seasoning if necessary. Pour into a squeeze bottle.
Serve: Top blinis with a piece of smoked trout  and squeeze a dollop of crème fraîche on top. Feel free to try fun designs, too!  Garnish with two sprigs of chive.
Makes about 32 blinis.
Check out more great cocktail party and Holiday party appetizers in our Appetizer Recipes Library!