Almost 2 years ago, it was announced that San Francisco would be the host of the 2013 America's Cup. You could say, we at Parties That Cook were born ready.. Or at least, we've been ready since then. Our fabulous Executive Chef, Tanya Rogow, went to work developing a Chef's Table menu inspired by the America's Cup. Judging by it's popularity this summer, I'd say she succeeded. And now, we'd like to share this simply delicious, supremely healthy kale salad — sure to get you in tip top shape for your own competition.

Dinosaur Kale Caesar Salad with Parmigiano-Reggiano
This recipe can also be found in our Soups, Salads & Pasta Section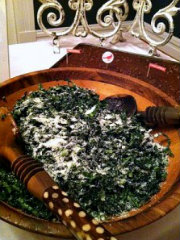 Ingredients
Kale and Croutons:
4 bunches Tuscan kale (Lacinato or dinosaur kale)
2 loaves country bread
3/4 cup extra-virgin olive oil
1 teaspoon of kosher salt
Dressing:
3 cloves garlic, peeled
1/2 cup lemon juice
1/2 cup extra-virgin olive oil
1 Tablespoon kosher salt
1/4 teaspoon freshly ground black pepper
1 1/2 cups finely grated Parmigiano-Reggiano cheese
Methods/Steps
Preheat oven to 350°F.
Cut Kale: Using a sharp knife, stack about 4 leaves of kale on top of each other, roll then cut into 1/8-inch strips including the stems. Chill until ready to serve.
Make Croutons: Using a serrated knife, cut bread loaf in half. Put the flat side down on the counter for stability. Using a serrated knife, remove the crust from the bread and discard or save for another use (omit this step is using baguette). Tear the bread with your hands into 1/2-inch bread cubes. Mix the olive oil with the salt. Toss the bread in the oil mixture and lay evenly on a sheet pan. Bake in a 350°F oven for 15-20 minutes tossing periodically to make sure the crouton are golden brown and crunchy.
Dressing: Using a blender, mix garlic, lemon juice, olive oil, salt and pepper until well blended.
Compose: Toss the kale in half the dressing. Add more dressing if needed being careful not to overdress. Add most of the cheese and all of the croutons. Toss well. Sprinkle salad with remaining cheese. Serve immediately.
Serves/Makes
Serves 24 as a First Course
Recipe adapted by Parties That Cook® | www.PartiesThatCook.com from Martha Stewart Dinner at Home By Martha Stewart.