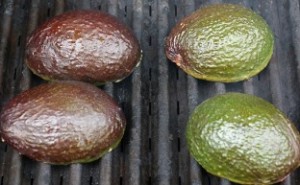 It's coming. You can't avoid it. You can just prepare.
The end of summer is fast approaching, and while some of us (cough, San Francisco) have a late "Indian Summer" to look forward to, most of the nation will have to pack up those grills and enter the fall season. Give your grill a proper goodbye, for now… These fun little Grilled Avocado Tacos have a deliciously fresh combination of flavors that might just inspire a summer fiesta! For a seafood twist, try our Little Fish Tacos with Tomato Salad and Chipotle-Lime Crema! You can find these featured at our upcoming Date Night Couples Cooking Class in San Francisco!
Little Grilled Avocado Tacos with Tomato Salad and Chipotle-Lime Crema
This recipe and others like it can be found in our Appetizer Recipes Library!
Ingredients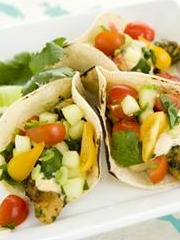 Avocado:
1/2 cup cilantro leaves
1 teaspoons paprika
1/2 teaspoon cumin seeds, toasted and ground
1 small red chili, seeded
2 limes, zested and juiced
1/2 cup extra virgin olive oil
1 teaspoon kosher salt
5 Haas avocados, halved, pitted and peeled
Toothpicks for serving
Tomato Salad:
20 cherry tomatoes, quartered
1/2 English cucumber, peeled, sliced in half, seeded and diced into 1/4-inch cubes
2 green onions, sliced
2 Tablespoons cilantro chopped, plus some whole leaves for garnish
1/2 teaspoon lime juice
1/2 teaspoon kosher salt
1/2 teaspoon sugar
Chipotle-Lime Crema:
1 cup sour cream
1/2 chipotle in adobo, minced plus 1/2 teaspoon adobo sauce
1 large clove garlic, minced
2 Tablespoons lime juice
1/4 teaspoon ground cinnamon
1 teaspoon kosher salt
2 Tablespoons cilantro, finely chopped
2 limes, cut into wedges
Tortillas:
24 small 4-inch corn tortillas
Methods/Steps
Marinade: Put cilantro, paprika, cumin, chili, lime zest, lime juice, olive oil and salt in a blender and process to a paste. Halve, pit and peel the avocados. Place avocado halves in a bowl and gently coat avocados with the marinade (do not mash the avocado in any way).
Grill Avocados: Heat a ridged grill pan over high heat. Place each half on the grill for cook for about 30 to 45 seconds. Don't be afraid to take the cooking outdoors, instead, and grill the avocados for a bit longer.
Cut Avocados: Transfer grilled avocado to a cutting board and cut each avocado half into thin wedges, about 4 wedges per half.
Tomato Salad: Cut up and mix all the ingredients together in a bowl and set aside.
Tortillas: Using tongs, grill each tortilla over a gas burner for 15 seconds a side. Transfer to a plate; cover with foil to keep warm. Alternatively, wrap all tortillas in foil and warm in a 350ºF oven for 10 minutes.
Make Crema: Place all ingredients into a small bowl and mix well.
Assemble Tacos: Place a piece of avocado on each tortilla. Put a dollop of the crema on the avocado then top with a spoonful of tomato salad. Garnish with some cilantro, roll into a cone and secure with a toothpick. Serve on a platter with lime wedges.
Makes 24 little tacos