The Travel Channel was reported as having received its highest-ever ratings for a new debut with the show Man v. Food (LA Times). Now in its second season, Man v. Food has inspired people to step out of their food comfort zones. Check out EatFeats for the latest news on competitive eating, a database of every challenge available, and a calendar of competitive eating events! Go big, go hot, or go home- that's my motto! Unfortunately, as one of the BIGGEST wimps when it comes to spicy foods, I would never last through any of the spicy challenges host Adam Richman faces on the road. It is not my fault that Hot Cheetos make me sweat! Though this recipe is nowhere near spicy enough to be featured in a Man v. Food challenge, the marinated beef is far too delicious to pass up!
Hot food fans and average foodies are bound to love
Beef Skewers with Spicy Peanut Sauce.
This recipe can also be found in our Appetizer Recipe Library.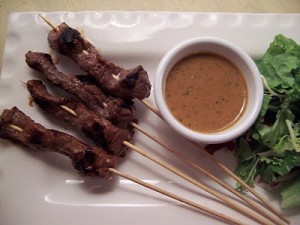 Ingredients
Beef Skewers:
1 1/2 pounds flank steak, trimmed
1/4 cup mirin
1/4 cup soy sauce
1/4 cup Asian sesame oil
2 Tablespoons honey
2 garlic cloves, finely chopped
2 quarter-size slices fresh ginger, finely chopped
24 eight-inch bamboo skewers, soaked in water for 30 minutes.
Canola oil, for the grilling meat
Peanut Sauce:
2 Tablespoons olive oil
1 garlic clove, finely chopped
1/3 cup scallions, finely chopped
1/2 teaspoon ground cumin
1/4 teaspoon pepper
1 medium tomato, finely chopped
1/2 cup coconut milk
1/2 cup crunchy peanut butter
2 teaspoons brown sugar or palm sugar
1 Tablespoon cilantro, chopped
Method/Steps
Prepare Meat: Cut the flank steak across the grain into 1/4-inch-thick slices. Combine the mirin, soy, sesame oil, honey, garlic and ginger in a small bowl. Toss the meat in the marinade and thread the meat onto 8-inch bamboo skewers and arrange the skewers side by side on a large platter. Let the beef marinate at room temperature for 30 minutes or refrigerate for up to 1 hour.
Make Peanut Sauce: Heat olive oil. Saute garlic, scallions until softened, about 2 minutes.  Stir in cumin and black pepper and stir for 1 minute.  Add tomato and cook, stirring, 2 minutes.  Add coconut milk and brown sugar (if using) and bring to a bare simmer. Remove from heat and stir in peanut butter until combined well. It may look curdled but that is ok. Simmer slowly for 1-2 minutes to thicken and stir in cilantro. Transfer to a bowl and garish with a cilantro sprig.

Grill Meat: Light a grill. Place the grate 8 inches from the heat source. Brush the grate with oil. Arrange the skewers on the grate; grill over high heat, turning once, until nicely browned all over, 5 minutes. Transfer the skewers to a large platter and serve hot with Peanut Sauce.
Makes 24 skewers.
Check out our other mouthwatering recipes in our Appetizer Recipe Library!