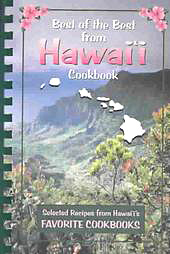 For the recent PTC Cookbook Club lunch, we ventured across the Pacific to the islands of Hawaii. Having grown up in Hawaii, I brought in a collection of my favorite islander cookbooks – weathered, spiral bound compilations I've garnered over the years – typically put together by an organization like a high school, the Hawaiian Electric Company, the Honolulu Advertiser newspaper or churches as a fundraiser.
The recipes represent the 'best of the best' family recipes from each organization – "Aunty Alice's Ono Mac Salad" or "Da Best Kimchi Spam Musubi." The population of Hawaii has long been a melting pot of cultures, and so the cuisine reflects this unusual mix of Chinese, Japanese, Korean, Filipino, Polynesian, American and native Hawaiian dishes.
Traditional native Hawaiian fare you'd find a luau includes kalua pig (whole pig slow-roasted in an underground oven), poi (taro mashed into a starch paste), lau lau (meat and fish wrapped in luau leaves), lomi lomi salmon (salted salmon mixed with tomato and onion), pipikaula (dried beef), poke (raw fish mixed with salt and seaweed) and haupia (coconut dessert).
For our islander lunch, we whipped up a mix of dishes:
Kalua Pig – Rather than fashioning an underground oven at Ocean Beach, I opted for the oven-roasted version of this smoky Hawaiian pulled-pork dish mixed with cabbage. After the pork shoulder is slow-cooked with seasonings, I shredded it and sauteed it with green cabbage. An easy, Hawaiian favorite, if you have 4-hours of cooking time.
Sweet & Sour Short Ribs – Bibby continued her quest for the ultimate short rib recipe with this basic Chinese version with sweet and sour glaze and cilantro. This recipe inspired a new addition to our Spring cooking party menus: Sweet and Spicy Braised Short Ribs with caramelized onions and spicy chipotle.
Chicken Luau – Crissy selected a hearty Hawaiian dish, traditionally made with luau leaves (she substituted spinach), coconut milk and chicken. Everyone liked the richness of the dish reminiscent of a cream of spinach.
Broiled Sushi – A popular dish at potluck parties in Hawaii, Rosie chose this cooked, roll-your-own take on sushi. A pan of sushi rice is topped with crab and dynamite sauce (mayo+siracha) before being poped into the broiler for a bubbly finish. We loved the simplicity of this preparation versus a time consuming roll.
Lomi Lomi Salmon – In Hawaiian, lomi lomi means to mix or massage. In this dish, I lomi'ed tomatoes and sweet onions with salty salmon and green onions. They say the complexity of flavor from this dish comes from the lomi lomi process.
Tofu Salad – A very simple home cook favorite. Drained firm tofu is topped with vegetables like watercress, tomato and onion and usually canned tuna or poached salmon. The dressing is a mix of garlic, soy sauce and sesame oil.
Macadamia Pineapple Rice Pilaf – I was a bit skeptical of this dish, since it incorporates cliche Hawaiian ingredients. It was, however, in one of my cookbooks, so it was fair game. I was pleasantly surprised by the flavor of Tanya's choice, which was well-balanced with fluffy oven-baked rice, chunks of pineapple and nuts.
Mango Bread Pudding – Mango is a very popular (and coveted) fruit in Hawaii. It's always nice to have an Aunty with a tree in her backyard! Mangoes are eaten ripe, or pickled when green or dried and enjoyed with li hing powder. Erin baked up mango into a decadent bread pudding drizzled with a warm caramel sauce.
Haupia – I couldn't resist making a small pan of this coconut pudding. After all, what's a luau without haupia! A simple mix of coconut milk and sugar thicked with cornstarch – it's a cool, creamy, sweet treat that goes with any Hawaiian meal.