The stormy weather may not indicate it, but Spring officially arrives this weekend. Spring is an exciting time of year for us at Parties That Cook, when we get to invent new menus that incorporate freshly available Spring ingredients.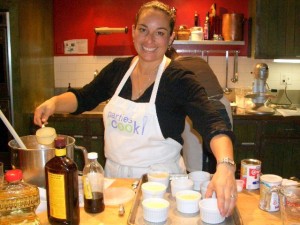 Yesterday, we took the day off for a Spring recipe testing session in the kitchen. Executive Chef Bibby Gignilliat formulates the recipes on paper beforehand, then gathers up the chefs to test them out live.
Taste is of the utmost importance, but our recipes also need to have clear directions and innovative culinary learning points for our guests.
Among the Spring recipes tested:
Mini Chalupas filled with Chorizo and Avocado
Scallop and Shrimp Ceviche Cups with Roasted Bell Pepper and Lime
Bacon-Wrapped Dried Plums with Melted Blue Cheese
Butter Lettuce with Cherries, Lardons and Tarragon Crème Fraîche Dressing
Rosemary and Pepper Dusted Filet Mignon with Shallot-Port Marmalade
Gruyere Cheese Soufflé
Sautéed Sesame-Garlic Asparagus and Sugar Snap Peas
Skirt Steaks with Ricotta Salata Salsa Verde
Our favorite recipe of the day was a delicate Miso-Mirin Glazed Black Cod, which we'll be serving alongside the Sautéed Sesame-Garlic Asparagus and Sugar Snap Peas for an Asian-themed Chef's Table menu.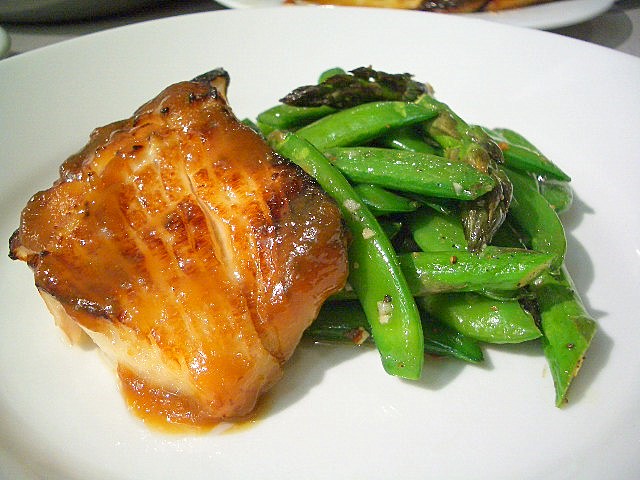 Miso-Mirin Glazed Black Cod Recipe
Serves 8
1 cup mirin (sweet Japanese rice wine)
1/2 cup sake
2/3 cup white miso paste (fermented soybean paste)
1/4 cup sugar
½ teaspoon kosher salt
Eight 6- ounce skinless black cod fillets, about 1 inch thick, pin bones removed
Canola oil
Miso-Mirin Glaze: In a small saucepan, bring the mirin and sake to a boil. Whisk in the miso until dissolved. Add the sugar and salt and cook over moderate heat, whisking, just until dissolved. Transfer the marinade to a large baking dish and let cool. Add the fish and turn to coat. Cover and refrigerate for 2 hours or overnight. Alternatively, marinate in an instant marinator.

Sear-Roast: Preheat the oven to 400°F. Heat a sauté pan and oil it. Scrape the marinade off the fish and reserve marinade. Pat fish dry with a paper towel. Sear the fish and cook over high heat until browned, about 2 minutes. Flip the fish onto a heavy rimmed sheet pan with browned side face up and roast for 8-10 minutes, until flaky. Cover sheet pan with foil to keep fish warm while making sauce.
Sauce:  Reduce reserved marinade for 2 minutes. Do not over reduce or it will get thin and grainy. Serve fish with a small spoonful of sauce.
Recipe created by Parties That Cook® www.PartiesThatCook.com.
-> Stay tuned for the release of all of Parties That Cook's Spring menus in mid-March 2009.