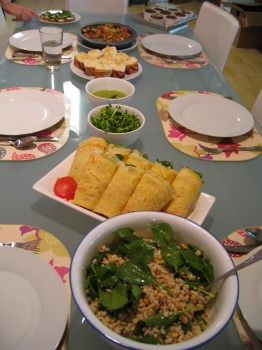 Not since Oprah's A Million Little Pieces scandal have we had any interest in book clubs. The concept is great in theory, but who really has time to read an entire novel every week? Not us! We're too busy throwing parties and enjoying the beautiful spring weather (let's not forget today is Earth Day).
The only book club we will make time for is our Cookbook Club. Held once a month at the Parties That Cook office, each of us brings a dish from a cookbook we've picked out to explore. We'll sit down to nosh and talk about each recipe – revisions, suggested additions, recipe errors (you'd be surprised at how many errors we've found!). Cookbook Clubs are a great way to build your recipe collection, while sharing the company of fellow cooks. Start your own among friends or find local clubs online.
Today's meeting was an enormous feast of a success, as is the norm. Unable to agree amongst ourselves on a single cookbook to cook from, we went with a general spring theme.
We had six club members present:
Bibby tried out Food & Wine's Smoked Salmon and Cream Cheese Crepes. We loved the dill and caper cream cheese, but decided that even with soaked capers, the recipe is a bit on the salty side.
Crissy (clearly new to the concept of a Cookbook Club) ad-libbed her own original recipe for Asparagus Soup with Buttery Croutons, Goat Cheese and Chives. It was darn tasty, so we can't really be mad at her.
Inspired by the smoked ham and gruyere Savory Bread Pudding in Tartine's cookbook, Liz created a spring version with asparagus and mushrooms. We decided we could consume much more of this lighter version than the Tartine original, which in our minds is a plus!
Christina baked a rustic Swiss Chard Pie with a homemade crust from Joyce Goldstein's Enoteca cookbook. We struggled with a lack of direction on forming the dough, which needed quite a bit more water than instructed.
Lauren brought a Wheatberry Salad with Citrus, Pine Nuts, Feta and Spinach from a Michael Ruhlman post. We loved the plump texture of the wheatberries, and wish we could have them served warm to wilt the spinach leaves as the directions had suggested.
Rosie brought her version of Heidi Swanson's Ginger Cupcakes with Ginger Cream Cheese Frosting. We loved the additional punch of fresh ginger and candied ginger Rosie decided to add.