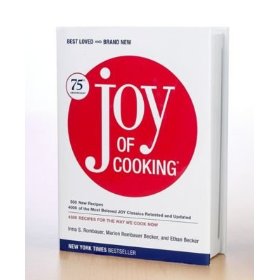 The Joy of Cooking has been the quintessential kitchen reference for tens of millions home cooks, since it was first published in 1931. From tuna noodle casserole to pate maison, Joy covers a comprehensive slew of culinary endeavors rooted vaguely in 20th century American homemaker tradition.
The book's first edition was self-published by Irma S. Rombauer, a struggling homemaker from St. Louis, who wrote the book to support her family after her husband's death. Joy became immensely popular as an encyclopedia of tried-and-true recipes, textbook of cooking techniques (canning, pickling, butchering), and culinary primer for proper American dining.
We selected the 75th Anniversary Edition of Joy for our October PTC Cookbook Luncheon. Released in 2006, this latest revision was received with a bit of skepticism because of its restoration of original recipes including use of ready-made products like Cream of Mushroom soup, as well as use of "modern" appliances like the microwave.
On the exploratory menu for our monthly luncheon (see below for our descriptions and thoughts):
Vegetable Pot Pie with Cheddar Biscuit Crust
– Made with a variety of meticulously peeled and chopped and individually sauteed winter root vegetables, Rosie's main complaint was the many hours she spent preparing this dish. Overall, a very satisfying, heart-warming dish that could be pared down to just a couple varieties of vegetable for ease of cooking.
Pate Maison – A dramatic veal and chicken liver pate wrapped in bacon. While the bacon wrap is meant to be cut off after the smoky flavor is imparted, Crissy couldn't bare slicing off all of the fatty goodness, and served it sliced alongside crusty baguette, dijon and cornichons. We loved the rustic, crumbly texture of the pate and agreed it was all-around was quite impressive a dish.
Tart Greens with Apples, Pecans and Buttermilk Honey Dressing – A simple salad, perfectly balanced and full of flavor. Christina tossed a tasty bowl of seasonal tart greens including endive, radicchio and arugula. The buttermilk honey dressing was surprisingly light, yet satisfying.
Cheese Soufflé – A classic French recipe, prone to "falling." Bibby adeptly timed her masterpiece, so it was presented in fully poofed gloriousness. The creamy and rich center included a mix of Gruyere and Parmigiano-Reggiano. Bibby pumped up the flavor of the recipe with some Dijon mustard and lemon juice.
Tuna Noodle Casserole – A nostalgic favorite from almost everyone's childhood, Lauren elected to make the Cream of Mushroom-based pasta bake. Eaters agreed the topping of buttered cracker crumbs and parmesean cheese "made the dish." Alternative topping suggestions included canned potato sticks, cornflakes and breadcrumbs.
Gorgonzola Stuffed Chicken Breasts – Shanti had originally planned on a chicken piccata, but only had a cast-iron pan on-hand, deeming her cream sauce impossible. Instead, she seared up this juicy chicken dish – perfect for a weeknight dinner.
Herb Crusted Sirloin Kebabs with Tomato Basil Relish – New to cooking, Office Manager LeRoid tried his hand at kebabs. Most notably, the recipe lacked portions for the herbs, so LeRoid was left to his own tastebuds to decipher the perfect blend of herbs for the marinade. The directions were also missing basil entirely, so LeRoid instinctively mixed chopped leaves into the relish. We all agreed he did a great job winging it!
Stuffed Cabbage – Tanya had long been searching for a great stuffed cabbage recipe, and may have found it! Traditionally a very labor intensive dish, Tanya cleverly invited friends and family to partake in the rolling of the hearty meat-filled leaves. After being simmered in a well-spiced tomato sauce, the leaf parcels were fork-tender and infused with flavor.