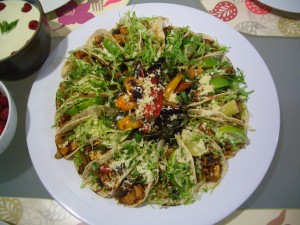 As children, most of us absolutely abhorred eating vegetables. If it was green, Mom could forget about forcing it down the hatch, unless cleverly guised in a veil of cheese sauce.
We're all grown up now and having developed a discerning palate for all herbaceous plant matter, we've grown quite fond of vegetarian cooking. There is an art and finesse to vegetarian cooking that not many chefs study. After all, there are thousands of types of vegetables to learn to work with, but only four major proteins to master.
A long time innovator in vegetarian cooking is world-renowned Greens Restaurant in San Francisco. For this month's meeting of the Parties That Cook Cookbook Club, we delved into the vibrant water-colored pages of Everyday Greens written by long time Executive Chef Annie Somerville. The book focuses on recipes for "home cooking" – rustic ragouts, satisfying stews, vegetables on the grill, quick stir-fries, pizzas, tortilla dishes, savory tarts, pastas, sandwiches and desserts, of course.
On the menu for our belly-bursting vegetarian affair: