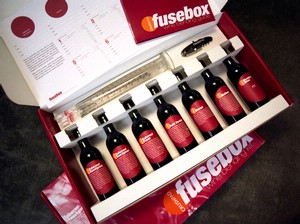 Last fall, Parties That Cook moved into funkified new digs on Minnesota Street in San Francisco's Dogpatch neighborhood, situated right near Potrero Hill and the Bay. We love our new location, and have had fun exploring it. In case you have never been to this particular neck of the city, here is a quick primer.
What Dogpatch Isn't:
– A band led by Keanu Reeves
– A style of facial hair for men
– An actual patch of dogs
What Dogpatch Is:
– An area with hot spots such as Serpentine, Piccino, Yield wine bar and a soon-to-open sibling restaurant to A16
– Sunnier than many parts of SF
– Home to Parties That Cook and the urban winery Crushpad
Crushpad quickly became one of our favorite neighbors in Dogpatch, and we're not saying that just because they gave us free wine. However, they did give us free wine. And they did so in a cool way: Wine guru Stuart Ake led us through a blending session using their irresistible kit, Fusebox.
Much in the way that we help people cook up fabulous dishes by combining different ingredients, Fusebox encourages you to experiment with different grape flavors to create your own signature blend. Using the pipettes and graduated cylinder in the kit to mix varietals together almost made us forget the traumas of seventh-grade science class. Nifty evaluation and aroma cards gave us the criteria and vocabulary to distinguish between the varietals in the kit (e.g. "This cabernet sauvignon has notes of tobacco and molasses, with a hint of burnt match and wet dog.").
Sound like fun? It was. You can embark on your own wine-tasting journey by attending Crushpad's Open House event on Saturday, June 21, from 2:00 p.m. until 6:00 p.m. We will be there too, offering you the chance to do some cooking and noshing while you sip. If you are single, check out our Cooking Crush event on July 16, hosted by Parties That Cook and Crushpad. An excellent pairing, if we don't say so ourselves.