2011 is OVER. Time to close that great chapter, and begin the next. There's just a little something we have to take care of first… This post is Part I of the final round-up of our corporate team building events and private cooking parties for 2011!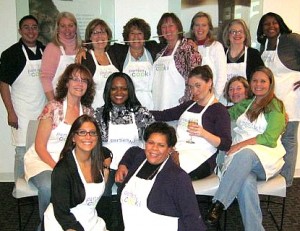 In mid-November, McGraw-Hill Higher Education hosted the first of a series of Parties That Cook events for a mix of staff and customers in Chicago. After finding us through an internet search, host Megan G. thought we had offered the most flexibility, the best venues… and "awesome recipes!" On working with our Chicago event planner, Megan said, "Christina Turner is top notch! She is a real asset to your organization. Right away, everything went smoothly and she made me feel completely at ease with the process. She was professional, friendly, and accommodating." What kind (yet accurate) words!
The bar was set high with Christina's customer service, but we did not disappoint! After the event, the raves continued. "The event was a great kick-off and a great way to achieve camaraderie right off the bat. It provided us with a way to make our customers comfortable and to break the ice before our event officially started." Megan added, "Molly, Brandy and the team were amazing. We were so lucky to have had them running our event, they really went above and beyond!"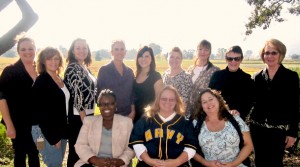 A few days later, Genentech hosted an intimate Chef's Table, 4-course meal for 13, at the gorgeous Mumm Napa. Host Lisa D. is no stranger to Parties That Cook, and opted to stick with us after a successful first experience. On working with veteran event planner, Rosie, she commented, "Rosie made the event seem super easy and everything was organized and complete in a timely manner. The party was wonderful! The best part was the teambuilding and fun!!!!" *No exclamation marks were added to this statement.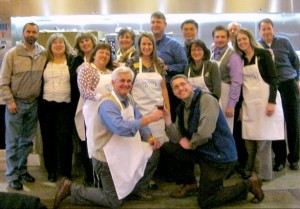 To round out November, VelocX hosted a fun event for 16 in Portland!! It's always so exciting to see events come in for our newer cities. After checking out a few of our different corporate event ideas, host Holly F. thought Sumptuous Small Plates was the "best event for the type of meeting [she] was planning." No buyer's remorse here! Despite some fears of skeptics in her group, post-event, Holly reported, "All of the guests were engaged and enjoyed the evening. The event was successful due to Chef Carolyn and her work in supporting our objectives."
Carolyn, our wonderful Operations Manager and event chef, agreed! "It was lots of fun! They were a great group, we made delicious food, and the venue worked out well (Great to hear of our first Bargreen Ellingson experience). Everyone loved it, even the skeptical ones that Holly forewarned us about. Lots of thank you's from the guests, and interest in what else we do. Holly loved it and said she could see using our services again for her clients."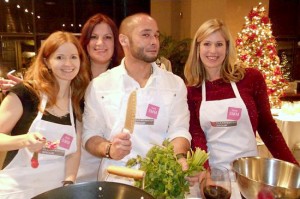 Closing out a 15-event week for Parties That Cook was an especially fun Clearwater Group dinner in Seattle. This wasn't just any corporate dinner. Host Paulette L. opted for the beautifully decorated destination venue: Efeste Winery. She also spiced things up a bit by adding a competition twist to their evening of Sumptuous Small Plates. "It sounded like it would be a fun way to have a party," Paulette explained. And she was right! Lead Chef Pam noted that this was a fun, enthusiastic group, and that it was a great menu for them. Afterwards, Paulette reported that the best part of the event was "the interactive nature of cooking together as a team, and yes, event was very successful!"