This Sunday, February 24th, brings the 85th Academy Awards – also known as The Oscars. Be excited.
This glamorous awards ceremony featuring iconic gold statues celebrates all things cinema. Along with the highly anticipated Red Carpet, a crucial component of any Oscar night is the assortment of extravagant after parties. But why let celebrities have all the fun? Host your own Oscar party! Whether you invite 3 friends or 300 strangers, (hey, it can happen, right?) this Oscar-worthy menu will make your bash the talk of the town. Paparazzi not invited.
These recipes can be scaled to feed a movie theater full of hungry cinephiles.
The fun part: each dish is inspired by one of the Best Picture nominees.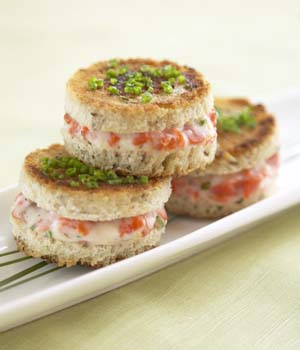 Amour – Go ahead, fall in love with our mini Smoked Salmon Croque Monsieur Sandwiches. You don't need subtitles to understand that these crunchy little sandwiches are delicious! We foresee a long, happy life together.
Argo – We bet the "Canadian film crew" would've loved these Middle East Nachos made of Baharat Spiced Beef on Pita Chips with Tahini Sauce. You know, if they didn't have bigger issues on their plates.
Beasts of the Southern Wild – Breakthrough actress Quvenzhané Wallis was just 5 years old during filming. Her feisty character, Hushpuppy, deserves a dish that packs a punch: Cornmeal Hushpuppies with Jalapeno Marmalade.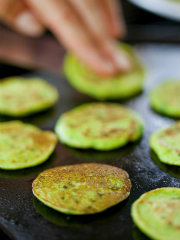 Django Unchained – While a Southern dish may have seemed like the clear choice here, we thought we'd mix things up with a German nod to Django's bounty hunting partner in crime (or justice?), Dr. Schultz. Staying true to German tradition, these Sweet Pea and Mint Pancakes are best served with Smoked Salmon and Sour Cream.
Les Misérables – They probably would've titled this film Less Misérables had the characters been fortunate enough to stumble upon this recipe for Petites Pissaladieres: Miniature Onion and Black Olive Tartlets. YUM.
Life of Pi – While I probably wouldn't enjoy being trapped on a tiny boat with a giant tiger, I would love to live a life of pies. Go savory with Mini Apple, Roquefort and Onion or satisfy your sweet tooth with Seasonal Fruit Potpies with Soft Whipped Cream.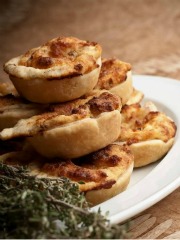 Lincoln – Let's take it back to the South with Crab and Roasted Red Pepper Beignets with Herbed Aioli. Consider these the perfect excuse to yell, "Procure me those beignets!!" You're welcome.
Silver Linings Playbook – Don't wake up your parents in the middle of the night. Don't fall prey to panic attacks. Don't become a grieving floozy. Do watch some football. Do take a dance class. Do make these deliciously saucy Philly Cheese Steak Bites.
Zero Dark Thirty – Where we found this tasty recipe for Meatballs with Coconut-Mint Chutney is Top Secret. Access classified information by saying the code words: PARSI KOFTA, or just clicking the link above.