TODAY IS PI DAY. I'm not sure if you can tell quite how excited I am. Silly you. I've been preparing for today all week. I've been to Chile Pies (sweet & savory) in San Francisco's Castro neighborhood – twice. I've devoured Reese's Peanut Butter Cups as if they were mini pies. I've eaten cake pops (bleh) and wished they were pie pops (yum!). And like a hawk, I've swooped in on pies left just a minute too long in the Parties That Cook fridge (tarts count too, Beth). Silly coworkers. At least they're excited about Pi Day as well. I'll give them that.
As consolation for eating all the pie in a 3-block radius, I'm sharing two fantastic pie recipes from the Parties That Cook recipe library.
Savory:
Mini Apple, Roquefort and Caramelized Onion Pies with Honey Recipe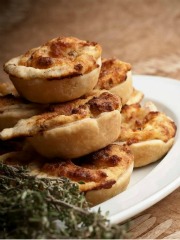 Ingredients
Pastry:
1 1/2 cups AP flour + more for dusting
1/4 teaspoon kosher salt
9 Tablespoons unsalted butter, cut into ½" pieces, frozen if possible
1/3 cup ice water
2-inch round cookie cutters
24-cup mini muffin tins
Apple, Roquefort and Caramelized Onion Filling:
1 Tablespoon unsalted butter 1 onion, thinly sliced
1/2 teaspoon kosher salt
1/8 cup water
1 Granny Smith apple, peeled, halved and cored
1/2 teaspoon chopped fresh thyme, plus thyme leaves for garnish
3 ounces Roquefort cheese, crumbled
2 Tablespoons honey
Methods/Steps
Preheat oven to 400°F
Make Pastry: Place the flour, salt and butter into the bowl of a food processor. Run the machine for 30 seconds or until the mix looks like pea size crumbles. Add the water and pulse just until a dough ball starts to form. A tablespoon or so more of ice water may be needed. Do not over work the dough or the crust will be tough. Gather all of the dough and press into a disk. If you are not rolling the dough immediately, wrap in plastic and refrigerate until ready to use.
Roll and Cut Pastry: Place the dough disk onto a well floured surface. With a floured rolling pin, roll dough to about a 1/4-inch thick. With a 2-inch round cookie cutter, cut 24 rounds from disk of dough. You cannot re-roll this dough so cut the rounds carefully and without wasting space between cuts. Gently press dough rounds evenly into the cups of a 24-cup mini muffin tin. Bake crust for 15 minutes. When pie shells come out of the oven, they will have puffed. Gently use a spoon or a fingertip to tap shells back down.
Cook Onion/Apple Mixture: In a sauté pan(s), heat the butter over medium-high heat until it is hot and beginning to brown. Add the onions and salt to the pan. Stir to make sure all the onions are coated with oil. Add the water to the pan, reduce heat to low and cover for 10 minutes to allow the onions to soften.
Dice Apples: Dice the halved apple into 1/4-inch cube. Once the onions are softened, add the diced apples and continue cooking, uncovered, until the apples are soft and the onions are golden brown, approximately 15 minutes. Stir to prevent burning. Remove from heat and let cool slightly. Add the chopped thyme and Roquefort.
Assemble and Bake Tartlets: Place a heaping spoonful of the filling into each pie shell. Bake in the oven until the cheese is bubbling, about 5 minutes.
Serve: While still hot, drizzle the mini pies with honey and garnish with the thyme buds.
Serves/Makes
Makes 24 Mini Pies
Recipe adapted by Parties That Cook® | www.PartiesThatCook.com
| From Parties That Cook Lead Chef, Mick Dimas.
Sweet:
Seasonal Fruit Potpies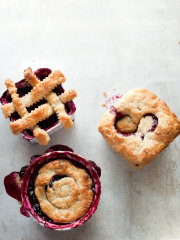 Ingredients
Cream Cheese Pastry Dough:
2 1/4 cups all-purpose flour, un-sifted
3 Tablespoons sugar
2 teaspoons lemon zest, finely grated
1/2 teaspoon kosher salt
8 ounces unsalted butter, cut into 1/2-inch cubes, chilled
8 ounces cream cheese, cut into 1/2-inch cubes, chilled
Fruit:
1/2 cup brown sugar
1/4 cup flour
1 teaspoon cinnamon
1/2 teaspoon nutmeg
1/2 teaspoon kosher salt
8 cups fresh fruit, cut into 1/2 inch pieces if necessary: blueberries, blackberries, raspberries, peaches, mango, apples and plums
1 Tablespoon lemon juice
2 teaspoons vanilla
2 Tablespoons butter
1/4 cup cream (for brushing dough right before baking)
2 Tablespoons coarse sugar, sprinkling over the pastry
Plastic wrap
Methods/Steps
Make Pastry Dough: Pulse the flour, sugar, lemon zest and salt in a food processor for a few seconds to mix ingredients. Scatter butter cubes over the flour mixture, and pulse until the mixture has the consistency of cornmeal. Scatter the cream cheese cubes over the mixture and process until ingredients just come together in a ball. Shape dough into 2 discs, about 3/4-inch thick. Wrap in plastic and freeze for 15 minutes in the freezer.
Make Fruit: Preheat oven to 375°F. Adjust rack to lower third of the oven. Place 12 ramekins on a sheet pan. In a large bowl, combine brown sugar, flour, cinnamon, nutmeg and salt. Add fruit, lemon juice and vanilla; gently toss to combine. Spoon about 1 cup of the fruit mixture into each ramekin; dot with a small pat of butter.
Roll Pastry Dough: Roll out one disc of pastry on a lightly floured surface until it is about 1/4-inch thick. Using a 4 1/2-inch round cutter, cut out dough circles that are just a bit larger than the ramekins. Set a pastry circle on top of each fruit-filled ramekin and gently press the pastry down into the ramekin around the edge. Repeat with second dough circle and remaining potpies.
Bake Potpies: Using a pastry brush, apply a light coating of cream over the dough, and sprinkle coarse sugar over the top. Using a small pairing knife, make a couple of slits in the center of the pastry to allow steam to escape. Bake for 30 minutes, or until the pastry is golden and the fruit is bubbly. Serve warm or at room temperature.
Serves/Makes
Serves 12