Sometimes you need to spice things up. Step out of your comfort zone, even if only by baby steps. Makhani sauce is really just a butter-based tomato cream sauce — something even the most all-American Paula Dean fan can appreciate. Serve the Makhani sauce with chicken, or with Basmati rice and naan for a delicious vegetarian meal. This tasty recipe will be making a big splash at our March cooking classes in San Francisco and Seattle. Get ready for exotic Date Night and Brews & Bites classes!
Mini Skewers of Roasted Chicken with Indian Makhani Dipping Sauce
This recipe can be found in our Appetizer Recipe Library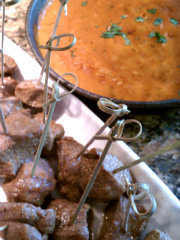 Ingredients
Makhani Sauce (Makes 1 cup):
1 large garlic cloves, minced
1/2 Tablespoon minced ginger
1/2 serrano chili, finely chopped
1 Tablespoons ghee, can substitute regular butter
1 green cardamom pods
1/2 inch cinnamon Stick
1 bay leaf
1 8 oz can tomato sauce, about 1 cups
1/2 teaspoon ancho chile powder
1/2 teaspoon garam masala
1/4 teaspoon kosher salt
1/2 teaspoon granulated sugar
1/2 cup heavy cream
2 Tablespoons cilantro, finely chopped
Juice of 1/2 lemon or lime
Chicken:
1 1/2 pounds boneless, skinless chicken breast, can substitute roasted marble size potatoes for vegetarians
2 Tablespoons olive oil
Juice from 1/2 lemon
1/2 Tablespoon kosher salt
1/4 teaspoon garlic powder
1/4 teaspoon ground ginger
1/4 teaspoon ancho chile powder
1/8 teaspoon freshly ground black pepper
12-20 short bamboo skewers
Methods/Steps
Preheat oven to 400ºF.
Prepare Aromatics: Finely mince the garlic and the ginger, set aside. Remove the seeds from the serrano pepper then finely dice. Set aside as well.
Make Sauce: In a medium size sauce pan over medium heat, melt the ghee. Once melted, add the cardamom pods, cinnamon stick and bay leaf. Toast spices for 1 minute. Add the garlic and ginger and sauté for another 30 seconds. Add in the diced serrano, tomato puree, chili powder, garam masala and salt. Mix well. Allow sauce to come up to a boil and then lower the heat and let the sauce simmer for 10 minutes. Add the sugar and heavy cream and bring to a boil. Once boiling, reduce to a simmer for 2-3 more minutes. Pick out the cinnamon stick, bay and cardamom (or strain). Add the cilantro and lemon/lime juice, taste for seasoning. Add more salt and sugar if necessary. When ready to serve, pour the hot makhani sauce into a decorative bowl.
Cube Chicken: Cut the chicken breasts into 1 inch cubes. Place cubes into a bowl and add the olive oil, lemon juice, salt, garlic powder, ginger, chile powder and pepper. Mix well.
Roast Chicken: Transfer the seasoned chicken onto a sheet pan(s) in a single layer. Roast the chicken for about 3-4 minutes. Turn over and cook on the other side until the meat is browning, about 3 minutes more (Alternatively, sauté for 5-6 minutes or grill for 3-4 minutes as side until cooked through).
Skewer Chicken: Thread 1 cube of chicken onto a the end of a short skewer or sandwich pick. Transfer to a platter and serve immediately with the dipping sauce.
Serves/Makes
Makes 27-30 Mini Skewers
Recipe created by Parties That Cook® | www.PartiesThatCook.com