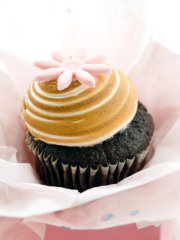 Happy Valentine's Day! Your dinner reservations may be set, but remember to leave room for dessert! Boy, have we got the perfect Valentine's Day recipe for couples or those flying solo: decadent chocolate cupcakes. With stout in the batter and porter in the frosting, there is no down side. And trust us, making the chocolate bubbles will sweeten your sweetheart's day and earn you extra points.
Chocolate Stout Cupcakes with Porter Frosting and Chocolate Bubbles
This recipe can be found in our Dessert Recipe Library!
Ingredients
Cupcake Batter:
1/2 cup stout, such as Guinness (let foam subside when measuring)
1/2 cup unsalted butter
6 Tablespoons unsweetened Dutch-process cocoa powder
1 egg
6 Tablespoons sour cream
1 cup all-purpose flour
1 cup granulated sugar
3/4 teaspoon baking soda
1/2 teaspoon kosher salt
1/4 cup bitter sweet chocolate chips
24 cup mini muffin tin pan lined with paper liners
Porter Frosting:
1 cup porter, flavored porters work well
1 cup (2 sticks) unsalted butter, room temperature
1 1/2 cups powdered sugar
Chocolate Bubbles:
1 cups bittersweet chocolate chips, about 6 ounces
1' x1' piece of bubble wrap, washed and dried thoroughly
Methods/Steps
Preheat oven to 350°F.
Heat Stout-Cocoa Mixture: Bring stout and butter to simmer in heavy large saucepan over medium heat. Heat until butter is melted. Add cocoa powder and whisk until mixture is smooth. Cool slightly.
Mix Wet Ingredients: Using a stand or hand mixer with a large bowl, mix the eggs and sour cream until blended. Add stout-cocoa mixture to egg mixture and beat just to combine.
Mix Dry Ingredients: In a medium bowl, whisk the flour, sugar, baking soda, and salt. Add flour mixture to the wet ingredients and beat briefly on slow speed. Add the chocolate chips and switch to a rubber spatula and fold batter until completely combined.
Bake Cupcakes: Line the muffin tins and fill them 2/3 full, about 1 tablespoon. Bake cupcakes until tester inserted into center of cakes comes out clean, about 8-10 minutes. Remove from oven and let cool for 5 minutes. Remove cupcakes from tin onto cooling rack and continue to cool completely.
Reduce Porter: In a small saucepan set over medium heat, bring the porter to a low boil. Reduce the porter to about 3 tablespoons, about 15 minutes. Let cool.
Beat Frosting: With a stand or hand mixer, beat the butter and the reduced porter until it is light and fluffy. Add the powdered sugar ½ cup at a time until it thickens and is smooth.
Melt Chocolate: Bring a pot of water to a boil. Place the chocolate in a bowl or double boiler. Turn off the flame and set the bowl over the steaming water (make sure the water does not touch the bottom of the bowl). Alternatively, place the chocolate into a stainless steel bowl and place into a low oven until melted. Once melted, stir to mix and remove from heat and let cool until cool to the touch but still pourable.
Mold Chocolate: Place the bubble wrap onto a sheet pan or plate that fits into the refrigerator or freezer. Pour the cooled melted chocolate onto the center of the bubble wrap. Using an offset spatula, gently and evenly spread the chocolate onto the bubble wrap. You do not need to fill entire piece of bubble wrap, just spread evenly. Place the chocolate into the refrigerator or freezer until hard. When hard, break the chocolate into 48 bite size pieces (big enough that you can tell it is bubble wrap but small enough to fit on the cupcake and handle as little as possible).
Frost Cupcakes: Frost each cupcake with the porter frosting. Top each cupcake with a piece of the molded chocolate or some chocolate shavings*.
*Chocolate Shavings: Use a vegetable peeler to slice ribbons or strips from a slightly warm block of good-quality chocolate (heat in microwave or warm oven for 5-second intervals, checking after each, until just warm to the touch; do not overheat). To produce tight curls, start from the far edge of the chocolate and move the peeler toward you. You can even shave the curls right onto the frosted cupcake.
Serves/Makes
Makes 24 mini cupcakes
Recipe adapted by Parties That Cook® | www.PartiesThatCook.com, from Barrington Brewery, Great Barrington, MA