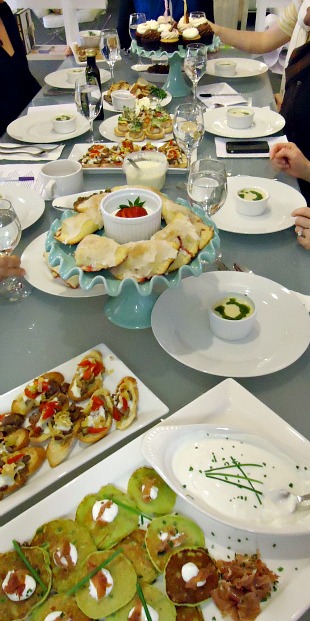 A few short weeks ago we had our most important cookbook club meeting in months. In an attempt at ultimate productivity, we decided to host a lunch featuring none other than Parties That Cook's Spring Menus. The finalized list of recipes for all Spring cooking parties, corporate team building events, and classes hadn't yet been released (Top Secret!). I must admit, I felt a bit special.
This season, you can expect to see a lot of familiar recipes. Call them what you will — classics, favorites, "mine" — we love these recipes, and we're sure you will, too. Let's dive right in, shall we?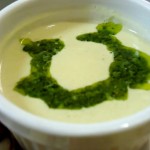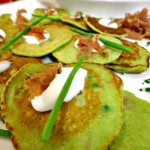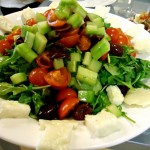 Creamy Artichoke Soup with Basil Pistou – Crissy elected to make this dish after a few days of indecision, and we were not disappointed! The soup had a delightful flavor, and was not heavy enough to overpower our appetites. Refrigerated, the soup lasted for a few days beyond this lunch!
Sweet Pea Galetes with Prosciutto and Sour Cream – Christina signed on to make this dish. Having tried a few of the other galete varieties we've had on our menus over the years, I had high expectations. One bite was all it took to know we had another winner on our hands. Whole peas add a nice texture and a little surprise in the galetes, and you really can't go wrong with a prosciutto and sour cream combo!
Greek Salad with Grilled Halloumi Cheese, Kalamata Olives and Smoked Olive Oil Dressing – Rebecca swooped on the opportunity to try this recipe. ("You had me at 'halloumi'.") What could have been another plain salad turned out to be a delicious dish worthy of center-plate. The ingredients really come together to provide the perfect balance of salty, sweet, and tangy flavors. Word to the wise: Do make sure you use a ridged grill pan when grilling halloumi. You really want those beautiful grill marks!
Crispy Pancetta Wrapped Marble Potatoes with Caperberry Remoulade – Kelle called dibs on this recipe rather early in the game. Unfortunately, she came down with the worst cold the office has seen in a while, and was unable to bring anything in this cookbook club.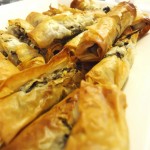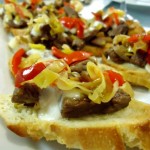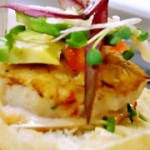 Spinach and Feta Cigars with Tzatziki Sauce – Bibby immediately staked her claim on these fun little "cigars". To the best of my knowledge, she stuck to the recipe. A couple of ladies at the table expressed an initial concern about this dish, but all were silenced with the first deliciously crunchy bite. I, for one, am intrigued to learn just how many dipping sauces (and which sauces) would pair well with the cigars.
Philly Cheese Steak Bites with Peppadew Peppers and Melted Gruyere Cheese Sauce – Rosie opted to make TWO dishes this cookbook club (she's quite the over-achiever). This appetizer was so delicious (and colorful!), I continuously piled a few more on my plate throughout lunch. Sadly, a staff meeting later that afternoon wiped out any I had refrained from eating myself…
Open Face Rock Shrimp Sliders with Lotus Root Pickles and Rainbow Micro Greens – Tanya, our very own Executive Chef and mastermind behind most recipes you find at events, wanted to take on this recipe. And she sure did it justice. With maybe a couple of tweaks here and there, she got this recipe ready for the lime-light (Recipe of the Month, anyone??). The final product was almost too pretty to eat, (Almost.) and definitely too good not too eat. (Definitely.)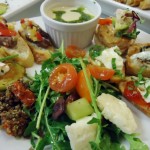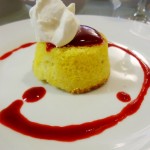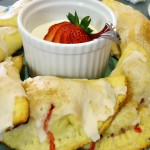 Baby Polenta Cakes with Raspberry Coulis and Amaretto Cream – Erin went back to her preferred course: Dessert. Let me just say: YUM. Though I can't speak for everyone, I really enjoyed the grainy texture the polenta provided. There were absolutely no complaints about flavor, and the next day, I could find absolutely no trace of left-overs. ('Twas a sad day for me..)
Strawberry and Rhubarb Empanadas – Rosie, the over-achiever, brought in these monstrous desserts for her second dish. They weren't actually that big, but after eating so many other dishes, I knew I could/should/would not attempt an entire empanada on my own. These were so delicious! The crust was not too thick, and as a whole, the dessert was not overly sweet. Ya gotta try these!
Overall, the lunch was great! I walked back to my desk feeling satisfied, if not a bit too full, and excited for all the positive feedback we can only imagine trickling in this season. Get ready for some awesome recipe blogs to come!