Last week brought our much anticipated March Cookbook Club. This month we elected to select our recipes from Parties That Cook's very own Spring Menus. There's no better way to test recipes and sneak a peek at the next season's appetizers, side dishes and entrees! Let's dive on in, shall we?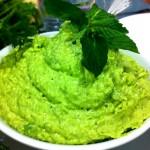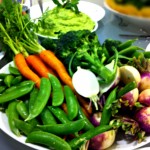 Fava Bean and Sweet Pea Puree – Roxanne started us off with a tasty dip and beautiful tray of fresh veggies. She substituted Shelled Edamame, and it worked beautifully! I loved this healthy start to our feast.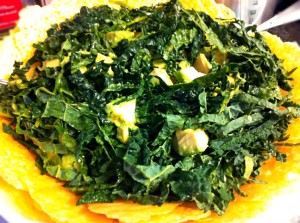 Dino Kale Caesar Salad with Marinated Avocado and Asiago Tostado – Rebecca continued our healthy kick with a Mexican twist on a classic salad. Everyone loved the fresh dressing with garlic, lime juice and olive oil. Rebecca loved how easy it was to make. Shredded Asiago crisps were the star of this dish – melting and toasting beautifully (and quickly!) in the oven. Pro tip: Kale can be pretty dense if packed into a bowl, so make sure to fully toss the greens in the dressing before adding more. Nobody likes a soggy salad!
Apricot and Pine Nut Dolmas – Laura staked her claim on this recipe early on. I don't even know how to describe just how refreshing these are. Upon first bite, I'm transported to a rocking chair on a shady porch somewhere in the South (the only place with truly scorching days, right?). Yep, that about sums it up. In true dolma fashion, the grape leaves made the perfect vessel for the rice, pine nuts and bits of apricot.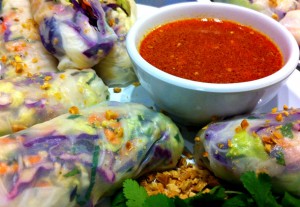 Fresh Vietnamese Spring Rolls with Jicama and Grapefruit Slaw – Kelle brought in gorgeous spring rolls packed with flavor. *Photo does not do justice! Even though Kelle held back on the citrus, the slaw was borderline addictive. We had a great time figuring out how to maximize the extra juices: Dip vs. drizzle vs. waterfall. Verdict: To each her own, just pass me another spring roll.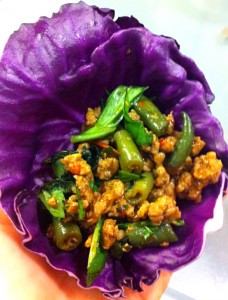 Spicy Minced Thai Chicken with Basil – Of course it would be Beth who chose the dish with "spicy" in the title. She is the queen of heat, among other things. Thankfully, Beth held back on the spice for the weaklings in the group (*cough* ME *cough*). I thought they were still pretty spicy, despite Beth's inability to detect any heat. Pro tip: The thick purple cabbage holds up incredibly well against the weight of the minced chicken – not to mention makes for a beautifully colorful dish.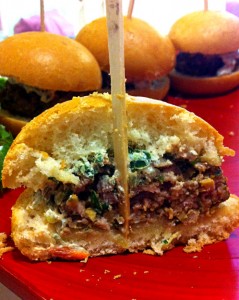 Indian Spiced Chicken Sliders with Cucumber and Mint Raita – Crissy opted for this surprisingly easy dish. Slider patties are quickly seared before being popped in the oven to cook. Whala! Pro tip: Don't skip the searing, as it really helps the patties hold their form when finished. Despite using the cutest mini buns for this recipe, the bread was still a bit overwhelming. Luckily, a quick brainstorming session allowed us to find the perfect solution (smaller buns, obvs.). I'm predicting these guys will be extra popular this spring.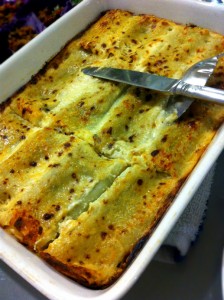 Bonus Dish! Tanya made Sweet Pea Cannelloni for us, even though the recipe is still under construction. We all loved the flavor, but found the dish a bit on the hearty side. Tanya scribbled a few notes, and it was back to the test kitchen for this cheesy side dish. (Mmmm, cheese.) Until we meet again, my pretty.