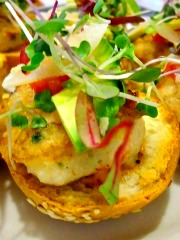 A couple of weeks ago, the Parties That Cook office crew sat down to a Cookbook Club meeting of epic proportions (blog to come). Together, we took on the task of testing (and taste-testing) the NEW recipes for our Spring Menus! As you may very well know, Parties That Cook changes the recipes available for our cooking parties and corporate team building events each and every season! This not only allows us to focus on seasonal ingredients, but also keeps us in step with current culinary trends.
Among the recipes selected for March's cookbook club were these absolutely delicious rock shrimp sliders. The fact that they're open faced is great because too much bread can easily overwhelm the precise blend of flavors achieved in this culinary creation. Once assembled, these tasty bites actually look like mini works of art. Hint: Great taste and elegant presentation reign at any Small Plates Competition!!
Open Face Rock Shrimp Sliders with Lotus Root Pickles and Rainbow Micro Greens
This recipe can be found in our Appetizer Recipe Library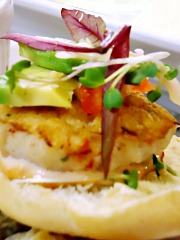 Ingredients
Slider Patties:
2 garlic cloves
1 inch piece of fresh ginger, peeled
3 Tablespoons coconut milk
1 1/2 teaspoons kosher salt
1/4 teaspoon freshly ground black pepper
2 1/2 pounds thawed, cleaned rock shrimp (if buying frozen, buy 3lbs to yield 2 1/2lbs thawed
2 Tablespoons cilantro, stem and leaves roughly chopped
1/4 cup olive oil-divided
Pickled Lotus Root:
1 small lotus root rhizome
1 cup rice wine vinegar
1 cup water for pickling liquid
1/4 cup soy sauce
1/4 cup sugar
2 teaspoons kosher salt
1 teaspoon Sichuan peppercorns
Garnishes:
1/2 cup mayonnaise
1/4 cup ketchup
1 Tablespoon chives, finely chopped
15 mini potato buns or parker house rolls, halved and toasted
1 avocado, peeled and very thinly sliced into 1 inch slices
1/4 cup unsweetened shredded coconut, lightly toasted
1/2 oz rainbow microgreens, about 3/4 cup
Methods/Steps
Preheat oven to 375ºF
Puree Shrimp: In a food processor fitted with the steel blade, finely chop the garlic and ginger. Add the coconut milk, salt, and pepper and pulse to mix. Add the cleaned rock shrimp and cilantro to the food processor and pulse about 15 times, or just until the mixture looks pureed. Do not over process.
Make Patties: Using a tablespoon dipped in a bowl of water, gently make patties, keeping the scoop and your hands wet at all times (for ease of forming patties). Place the patties onto a plastic wrap lined sheet pan. Refrigerate for 10 minutes or place into the freezer for 5 minutes.
Cook Sliders: Heat a flat, non ridged, griddle pan or large nonstick sauté pan over medium high heat. Working in batches, pour about 1 tablespoon of the olive oil onto the pan. Carefully place the slider patties onto the pan, and sear for 1-2 minutes, or until golden brown. Drizzle another tablespoon or so of olive over the tops of the patties then flip the patties over. Let sliders cook 1-2 more minutes. Remove cooked patties to a clean foil or parchment lined sheet pan(s).
Slice Lotus Root: Fill a sauce pan with water and bring up to a boil. Peel the lotus with a vegetable peeler. Fill a medium bowl almost full, with water and add about a tablespoon of rice wine vinegar (acidulated water prevents oxidation). Cut the lotus in half lengthwise or into quarters if really large. Using a mandoline, slice the lotus into 1/4 inch thick pieces and place into the bowl of water as they are being sliced. When the entire lotus is sliced, remove the lotus from the acidulated water. Blanch the lotus in the pot of boiling water for 2 minutes. Discard acidulated water from the bowl and remove lotus from the boiling water with a spider or skimmer back into the medium bowl. Set aside.
Make Pickling Liquid: Discard boiling water from the saucepan used to blanch the lotus. Combine the rice wine vinegar, 1 cup water, soy sauce, sugar, salt, and Sichuan peppercorns. Bring the mixture up to a boil and cook until sugar dissolves.
Pickle Lotus: Pour the pickling liquid over the louts and place into refrigerator until ready to use.
Make Slider Spread: In a small bowl mix mayonnaise, ketchup, and chives until combined. Set aside.
Toast Rolls and Warm Sliders: Cut the rolls in half and place onto a sheet pan. Lightly toast the rolls in the oven. Place the cooled sliders back into the oven just to warm through.
Assemble Sliders: Spread some of the flavored mayonnaise onto each of the toasted buns. Lay a shrimp patty on top of the spread. Garnish the top with an avocado slice, lotus root pickle, shredded coconut, and a pinch of the micro greens.
Serves/Makes
Makes 30 Sliders
Recipe adapted by Parties That Cook® | www.PartiesThatCook.com from Hubert Keller's Secrets of a Chef and Burger Bar restaurant