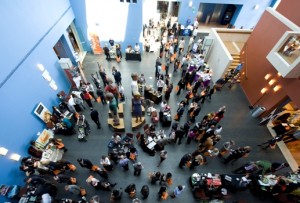 This Monday, September 12th, Bibby, Crissy, Carolyn and Rebecca had the pleasure of attending the Pacific Community Ventures Annual Luncheon. About 50 local companies set up booths, and over 350 business and community leaders attended in celebration of small businesses, entrepreneurs and the jobs they create in lower-income communities. Take a peek at last year's PCV Luncheon here.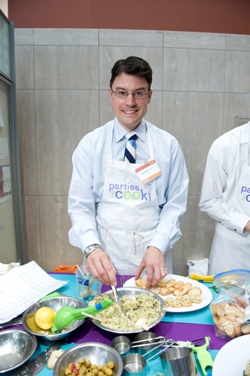 We spent the morning showcasing Parties That Cook at a hands-on cooking station right in the middle of UCSF's Mission Bay Conference Center. Luncheon attendees stopped by to chat before being wrangled into an apron and helping us create delicious Crostini of Artichokes, Picholine Olives and Shaved Parmesan. We'd like to thank all of our lovely volunteers for making our booth one of the most popular – and most delicious!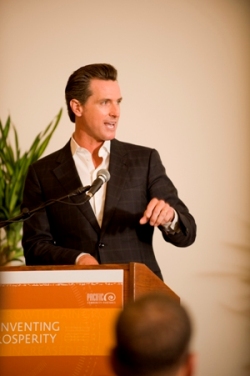 Everyone headed into the main conference room around 12:30 to enjoy a nice lunch, do a little networking and applaud this year's recipient the award for Advisor of the Year: Jeff Gustafson. We are so proud to be working with Jeff, who has been our CFO consultant and a key player in Parties That Cook's success this year and last. To top it all off, Lieutenant Governor Gavin Newsom gave an inspiring speech as the keynote speaker. What a treat! For more photos of  the showcase and luncheon, go here.
We ended the day offering our Lavender Teacakes with Homemade Lemon Curd. Yum! For your cooking pleasure, we are now going to share our hit crostini recipe. Enjoy!
Crostini of Artichokes, Picholine Olives and Shaved Parmesan
This recipe can be found in our Appetizer Recipe Library!
Ingredients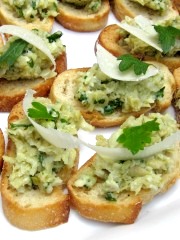 Crostini:
1 baguette, cut on a diagonal into thin (about 1/4-inch) slices
3-4 Tablespoons of extra virgin olive oil
Topping:
6 whole artichokes hearts in brine
1/2 cup green olives, like Picholine or Lucques, pitted
1 clove garlic, peeled
1/2 teaspoon grated lemon zest
1/4 cup finely grated Parmigiano-Reggiano cheese
2 Tablespoons extra virgin olive oil
1 Tablespoon lemon juice
1/4 cup parsley leaves
1/4 teaspoon of kosher salt
freshly ground black pepper to taste
Garnish:
Shavings from chunk of Parmigiano-Reggiano
Lemon wedges
Parsley sprigs
Methods/Steps
Preheat oven to 350°F.
Make Crostini: Brush the bread slices with olive oil and toast in the oven for 10-15 minutes, until lightly brown and crisp.
Topping: Put the artichokes, olives, garlic, lemon zest and Parmigiano-Reggiano cheese in a food processor. Pulse for 1 minute scrapping down the sides once. Add the olive oil, lemon juice, parsley, salt and pepper to taste. Pulse for another minute. Correct seasoning if necessary.
To Serve: Spread a heaping tablespoon of the mixture onto each crostini, top with a shaving of Parmigiano-Reggiano and a sprig of parsley. Serve immediately. Decorate the platter with lemon wedges if desired.
Serves/Makes
Makes 24 Crostini