On Tuesday, November 2nd, some of the Parties That Cook team attended the Pacific Community Ventures Annual Luncheon and Showcase. PCV is a non-profit organization that invests in small businesses, as well as offers entrepreneurs access to valuable business advising. Bibby had been asked to introduce George Beardsley, who was being honored as Advisor of the Year. George has recently provided PTC with some truly amazing guidance and advice in its endeavors, so Bibby was eager to help. Once again, Crissy was recruited to (wo)man the PTC booth. Carolyn, usually PTC's operations manager, came out as our Lead Chef for the day.
We had a couple of tables set up with the usual marketing materials as well as an interactive cooking station! Passers-by were invited and encouraged to put on an apron, jump in and help us make Ahi Tuna Tartare for the crowd. We really did get some great volunteers! Visitors intrigued by the cooking station, and attendees interested in hearing more about our business kept us very busy!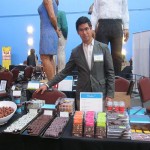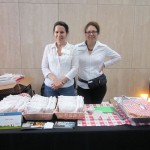 It was great to reconnect with some familiar faces, as well as meet other showcasing companies, some of which included: Charles Chocolates (delicious AND represented by wonderful people), Fireclay Tile (beautiful designs, thanks for the tile!), Chile Lindo (glad you got the chance to make some tuna tartare with us!), Rhythm and Motion (dance classes look like SO much fun), InterSchola (brilliant idea), and SFMade (hope to see you again soon!) –they were all SO nice!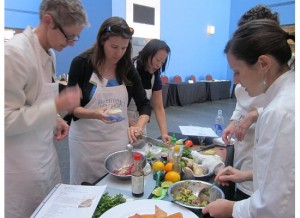 Everyone LOVED the Ahi Tuna Tartare on Wonton Triangles, so it only seemed right to share the recipe in a blog (it is also posted in our Appetizer Recipe Library). Fortunately, the wontons made the day before (triangles instead of cups) were crispy enough to last through the day (I made 200, and we still ran out!). This recipe will lead you to an appetizer with fresh, slightly tangy flavors that have just the right amount of spicy kick!
Ahi Tuna Tartare in Toasted Wonton Cups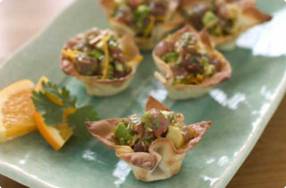 Wonton Cups:
24 wonton wrappers
Olive oil spray
Salt for light dusting
Tuna Tartare:
9 ounces sushi-grade tuna, cut into 1/4-inch cubes
2 Tablespoons green onions, green parts only, finely chopped
2 Tablespoons sesame seeds, toasted
2 Tablespoons soy sauce
1 teaspoon sesame oil
1 teaspoon fresh ginger, peeled and grated
1 clove garlic, minced
3/4 teaspoon orange zest
1/2 teaspoon Sriracha (red chili sauce)
2 Tablespoons cilantro, finely chopped
1/2 teaspoon kosher salt
1 avocado, cut into 1/4-inch dice
2 teaspoons lime juice
Cilantro sprigs for garnish
Methods/Steps:
Preheat oven to 350°F.
Make Wonton Cups: Spray mini muffin tins with olive oil. Spray (or brush lightly) both sides of each wonton wrapper with olive oil. Place wrappers in mini-muffin tins. Bake until golden, about 6 minutes. (They can burn easily so watch carefully.) Remove cups from pan, sprinkle lightly with salt and let cool on a cooling rack.
Alternatively, if you want triangles: Cut the wonton squares on an angle to make two triangles. Spray with olive oil, or brush lightly, on both sides. Arrange triangles on a baking sheet, and bake until golden, about 6 minutes. Remove from oven and immediately sprinkle lightly with salt before cooling.
Prepare Tuna Tartare: Mix tuna, green onions, sesame seeds, soy sauce, sesame oil, ginger, garlic, orange zest, Sriracha, cilantro and salt together in a medium bowl.
Assemble: Right before ready to serve, add avocado and lime juice to the tuna mixture (Do not add in advance or the texture will be compromised). Gently mix. Place a heaping teaspoon of the tuna tartare in each wonton cup. Garnish with a sprig of cilantro. Place on serving platter and serve immediately.
This original Parties That Cook recipe makes 24 wonton cups.
For other proven crowd-pleasing recipes, check out our Appetizer Recipe Library!
Check out a throw-back video of Parties That Cook founder and CEO, Bibby, giving a great tutorial on these wonton wrappers!