This week, our Friday event blog is featuring two very different events. Both events were held at wineries. Both events had between 20 and 25 guests. Both events were for corporate groups that left feeling full and happy. How can two events that are so similar be so different, you say?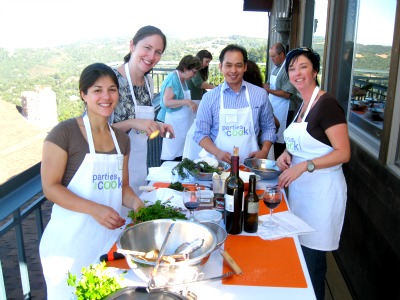 Intuit hosted the first event at the beautiful Thomas Fogarty Winery. Host Fay H. selected a traditional Chef's Table after being referred to Parties That Cook by other departments within Intuit. "It was all great," she later reported. We knew it was a hit when she said she couldn't think of a thing that would have made their event better. Fay continued, stating that she "loved having everything there waiting for us…" and "loved the teamwork of cooking together." Sounds like happy customers at Intuit!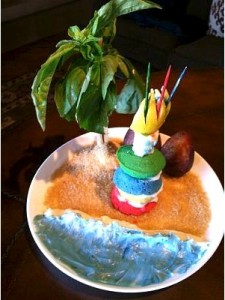 Coupons, Inc. hosted the second event at Byington Winery. They decided to go with an exciting Cupcake Wars event with an added wine tasting portion. Jed was the Lead Chef on this event, and they loved him! Derrick D., the Coupons.com host, explained that the best part of the event was "Having Jed and Amy. They were both brilliant in their presentation and fun to work with. What great representatives for your company — very helpful. Jed kept the party light and fun. The event was a complete success." We could not have hoped for better!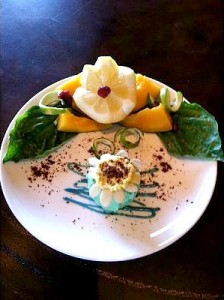 Derrick was also stumped when asked if we could have done anything to improve the event. He stated, "No. I think the format and timing was perfect. Byington Winery is an absolutely beautiful place for this event. We have some great memories to share." And so do we! We loved the photos from their Cupcake Wars so much that we have added them to our Facebook page! Check them all out here.
All in all, host Derrick thought that "Cupcake wars hit us as a great, fun idea. Pairing it with the tour and tasting after was a huge plus for us. We'd definitely do this again and use Parties That Cook as our planner." It's like music to our ears!! We are looking forward to working with Coupons.com (and Intuit!) again soon!
Want to see your event featured in a Friday Event Blog? Let us know!
Hope to see you in the kitchen soon!