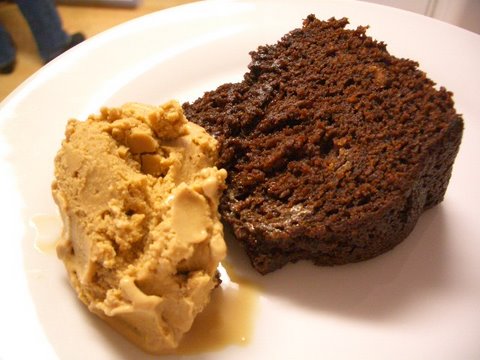 A hungry horde of twelve sat down on Tuesday afternoon to a table teeming with platters of color creations from Suzanne Goin's Sunday Suppers At Lucques.
An alumna of Chez Panisse and owner of acclaimed Lucques restaurant in LA, Goin subscribes to the Alice Water mantra of simple food and pure ingredients. Her recipes reflect an attention to seasonality with traditional French influences. Her cookbook is surprisingly not-so-simple for the basic home cook, but ideal for our crowd of chefs who know to read between the lines – the gaps within her recipes' instructions.
The result… a winning lunch and one of our very favorite meetings of the Parties That Cook Cookbook Club. We were glad to have invited our friends from Brix 26, Crushpad and Allpointe to share in the spectacular spread:
Fava Bean Puree with Oil-Cured Olives, French Feta and Garlic Toasts – A bright and springy fava crostini, but the recipe called for so much olive oil that Bibby had to strain the bean puree to prevent an oil slick.
Swiss Chard Tart with Goat Cheese, Currants and Pine Nuts – We enjoyed this take on contorno, Sicilian cooked greens with pine nuts and currants. Bibby partially baked the puffed pastry with a sheet pan on it before adding the other ingredients to prevent the bottom from getting soggy.
Wild Salmon Salad with Beets, Potato, Egg and Mustard Vinaigrette – Everyone loved this hearty main course salad with slow roasted salmon coated in herbs. Like the crostini recipe, Crissy thought way too much olive oil was called for in the dijon vinaigrette.
Winter Squash Risotto with Radicchio and Parmesan – The inclusion of radicchio into this creamy risotto added a nice bite and texture. Rosie thought the directions were simple and straight forward, but did feel the recipe was heavy on salt.
Devil's Chicken Thighs with Braised Leeks and Dijon Mustard – While tasty, Tanya did not think this take on Julia Child's original recipe was worth time and effort involved. Everyone did fawn over the tasty braised leeks.
Boeuf a la Nicoise: Braised Beef Stew with Red Wine, Tomato, Olives and Buttered Noodles – For our extern Liz's last PTC Cookbook Club, she skillfully stirred up this robust beef stew. We loved the salty and sweet dimension of the stew and lauded her use of wine garnered from a friend who had just vacationed in France.
Romesco Potatoes – Intimidated by this cooks' cookbook, I chose the recipe with the fewest amount of ingredients (still 14 ingredients!). I enjoyed learning to make the spicy ancho chile romesco sauce and roasted then fried potatoes. Everyone agreed that it was a recipe worth making again.
Strawberry Gratin – For a sweet finish, Tanya composed a beautiful gratin of strawberries atop a creme fraiche custard. Simple and pure happiness in a dish! Original recipe called for raspberries, but really any fleshy seasonal fruit would work well.
Chocolate-Stout Cake with Guinness Ice Cream – Michelene thought the ice cream directions were very lacking to the point that an inexperienced cook would definitely fail. Luckily for us, Michelene is all business in the kitchen and made the dessert combo perfectly. We loved the dense chocolate cake and gingerbread-like flavor. The ice cream was also a unique treat distintively Guinness in its dark, sweet stouty flavor.
Next up, the 1-year anniversary of our PTC Cookbook Club! We will be exploring Heidi Swanson's Super Natural Cooking.