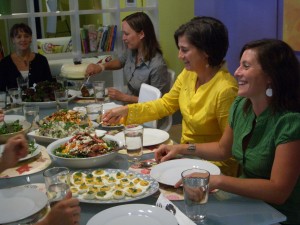 At this month's meeting of the Cookbook Club, we agreed on a test drive of the Bon Appétit Top 100 Dishes, an enticing feature of Bon Appétit's sleek, newly revamped website. According to Editor-in-chief Barbara Fairchild, the Top 100 will be an ever-evolving collection of the season's best recipes as deemed the epicurean authorities.
As avid worshipers of pretty much any type of Top 100 list (Movies, Influential People, Blogs), it was not a hard sell around the office.
To start, we flocked around a platter of Chipotle Deviled Eggs, befitting of the post July 4th heatwave we've been experiencing here in the Bay Area. Christina showed off mad piping skills with her perky yolks. As assumed with deviled eggs, the recipe turns out very spicy, so adjust to taste!
The Fresh Salmon Salad with Chickpeas and Tomatoes was delicious served warm (also recommended at room temperature). Crissy revised the recipe to include pitted olives to avoid any awkward spitting at the table. There was also quite a bit of salmon for the amount of salad, so it would be best served as the main course.
There were no leftovers of the Arugula and Bacon Quiche, which had a flaky shortening crust and savory filling. The rich cream, egg and Gruyère mellowed out the spicy arugula making for a perfectly balanced bite. Lauren is against tedious trimming of leaves, so she opted for baby arugula and left the tender stems on.
For the main course, we picked out the Barbecued Beef Ribs with Molasses-Bourbon Sauce. The sauce was indeed finger-licking good, and highly recommended. Unfortunately, Bibby's grill was having its own independence day and not up to the task of 3 hours of slow cooking, so the oven picked up the slack. While short ribs or full beef ribs were suggested, we'd opt next time for the short ribs, which we suspect would have come out perfectly tender on the grill.
A classic American Creamy Potato Salad with Lemon and Fresh Herbs rounded out our meal. Rosie fought her healthy eating conscience and used real mayonnaise for the dish, a decision the rest of us applauded her for. Sans green onions, the salad was also breath-friendly.
Erin, having recently become an amateur wedding cake baker, asked to digress from the Top 100, and instead tried out the Lemon Wedding Cake with Blackberry Sauce recipe from Bon Appétit's cookbook. The tri-level domed white bombshell had decadent pound cake-like layers and cream cheese frosting. We fell more and more in love with every bite!
In typical Parties That Cook fashion, we kicked things up a notch with a few extras like an Arugula Steak Salad and a Fresh Meyer Lemon Curd Cheesecake. We invited over a few of our hard-working chefs for the fabulous lunch feast and to chat about the Bachelorette finale (we're still in shock). Just another day at the office!