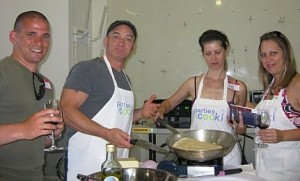 A couple of weekends ago, we toted our pans and burners over to neighborhood winery Crushpad for their annual summer open house. Over 1,000 folks showed up to taste Crushpad's wines, sample artisan chocolates, and participate in our free hands-on cooking class.
We had a chance to sample a deliciously refreshing Rose and oaky Chardonnay before an inundation of hungry drinkers hit our tables wanting food.
At first, it took a little convincing to get folks to dirty their hands, but once a few brave souls jumped in and threw on an apron, the flood gates opened. For the next 3 hours, our chefs were racing around teaching people how to chop onions, shave herbs and flip quesadillas. They couldn't get enough of the cooking (and eating)! Check out the photographic evidence here.
We featured our famous Shrimp Quesadillas with Tomatillo Salsa (goes great with Crushpad wines) and our Roasted Red Bell Pepper and Walnut Dip with Pomegranate Molasses and Crispy Pita Chips.
Looking for great summertime recipes? These and other delights can be found in Parties That Cook's Sumptuous Small Plates recipe deck.
Looking for love? We've got that covered, too. Join us for the next Cooking Crush Party, an evening of wine tasting and cooking for singles! Wednesday, July 16th from 6:30 – 9:00 pm at Crushpad Winery in San Francisco. Click here to RSVP.