Valentine's Day is slowly creeping up on you. There are now just a little over 2 weeks for you to plan your MOST AMAZING Valentine's Day ever! No need to freak out. Parties That Cook has a few options for you last minute romancers.
Book a spa visit with a couples massage, and you are sure to earn extra points from your honey. Talk about luxurious, Auberge Du Soleil in Napa Valley offers a Valentine's Indulgence spa package that actually includes a milk chocolate bath for two in a private outdoor garden. Admit it, you're melting just thinking about it. Finally, retreat back inside for a full body massage using a decadent massage oil of chocolate and spice. Filling your own tub with chocolate milk is NOT recommended.
Nice restaurants don't have to come with an expensive prix fixe meal. While it may be easier to have one less decision to make that night, ordering a la carte is better for your wallet. Here's a list of fine dining establishments in San Francisco and Chicago that stay true to a la carte menus.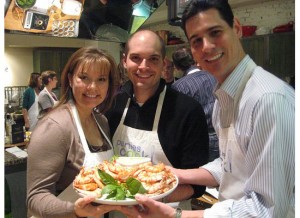 Cooking a romantic dinner is another option that allows you to show your personality through food. Check out Parties That Cook's Valentine's Day Couples Cooking Classes! Sip on delicious sparkling wine (included) as you and your honey heat up the kitchen and learn to make dishes like Pancetta-Wrapped Plums with Blue Cheese and Sweet Honey-Balsamic Glaze.  The Chocolate-Raspberry Truffles are the cherry, wait, raspberry on top. Hosted in San Francisco, Chicago, and Seattle, these events are sure to sell out.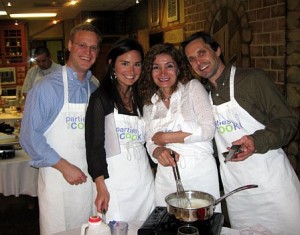 Don't have a sweetie? Find him or her at a Valentine's Day Singles Cooking Class!  Guests are broken into co-ed cooking teams to work on recipes from the evening's tapas menu. You'll mix and mingle with other singles while sipping wine and learning how to prepare delicious new dishes. Trust me, it's better than finding love through your car.
If you're love life is laughable, check out Mortified SF/Berkeley/LA/Boston's Doomed Valentines shows. Real stories of awkward Valentine's Day mishaps may just make you feel better about yourself.