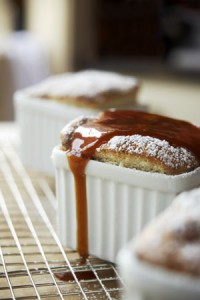 Taking on the task of cooking for your Valentine? Well, you should! Cooking for your date shows you put thought and effort into the evening. Even if you're planning an elegant dinner out this Valentine's Day, you can put a personal touch on the night by baking your own dessert. This easy to make Scharffen Berger Chocolate Soufflé Cake with Salted Crème Caramel – the name alone sounds deceptively intimidating – is sure to impress!
Scharffen Berger Chocolate Soufflé Cake with Salted Crème Caramel
This recipe, along with other crave-worthy recipes, can be found in our Dessert Recipe Library!
Ingredients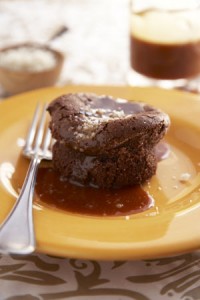 Prepping the pan:
1 1/2 Tablespoons butter2 Tablespoons sugar
Torte:
6 ounces bittersweet Scharffen Berger chocolate, finely chopped
6 ounces (12 Tablespoons) unsalted butter
4 eggs
1/2 cup sugar
1 1/2 teaspoons vanilla
Salted Crème Caramel:
1/2 cup sugar
1/4 cup water
Pinch of cream of tartar
3/4 cup cream
½ teaspoon fleur de sel (sea salt) + more for garnish if desired
Mint sprigs (optional)
Methods/Steps
Preheat the oven to 275º F.
Prepare cake pans: Butter bottom of 8 5-ounce ramekins. Dust the sides of the ramekins with granulated sugar and tap out the excess sugar.
Batter: Melt chocolate and butter in a bowl or double boiler set over lightly simmering water. Once melted, stir to mix and remove from heat and let cool slightly. Separate eggs placing yolks in large bowl and whites in medium bowl. Using a hand mixer, whisk sugar and vanilla into egg yolks until they are thick and pale. Gently (on a lower speed) whisk cooled chocolate mixture into egg yolks. Whip egg whites to soft peaks and fold them into egg yolk/chocolate mixture.
Bake Cakes: Pour batter into the prepared ramekins and bake until raised and just set, about 20-25 minutes. Remove and place on cooling rack.
Make Crème Caramel: Combine sugar, water and cream of tartar in a small saucepan. DO NOT STIR. Bring to a boil and cook until the caramel browns. When the caramel is medium brown, stir in fleur de sel and remove from heat.  Carefully add cream and simmer until ready to use.
Serve: Pour about 2 Tablespoons of caramel on the plate and swirl plate to coat. Invert cakes from ramekins onto plates and sprinkle with a touch more fleur de sel if desired. Garnish with mint. Quick tip: Serving your Chocolate Soufflè warm will melt your date like putty (or salted crème caramel) in your hands. Just saying.
Serves/Makes
Makes 8 cakes