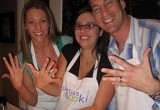 Looking for a last minute plan on Valentine's Day? Steam, simmer and seduce your special someone with a romantic cooking class for couples. We still have space for a few lucky couples in the February 12 evening class and February 14 daytime class in SF, so grab your tickets today! All other classes have sold out.
As the saying goes, the quickest way to a man's heart is through his stomach. These days, we can all agree the same sentiment applies to the ladies as well. Together, you'll heat up the kitchen and learn to cook an assortment of gourmet appetizer dishes with international flair. You'll fall in love all over again noshing on mouth-watering bites like Ahi Tuna Tartare in Sesame Won Ton Cups and Cinnamon Churros with Hot Chocolate Dipping Sauce. It's a hands-on cooking lesson, gourmet meal, and aphrodisiac – all-in-one!
Best of all, you'll be spending quality time with the one you love (and toasting to romance with free wine and champagne courtesy of the Duckhorn Wine Company and Schramsberg Vineyards)!
Valentine's Day Menu
Ahi Tuna Tartare in Sesame Won Ton Cups
Polpettini: Little Meatballs with Melted Fontina Centers
Sweet Potato and Bacon Galettes with Sage Creme Fraiche
Caramelized Onion, Medjool Date and and Melted Brie Crostini
Lettuce Cups Filled with Gingery Pork and Shiitake Mushrooms
Cinnamon Churros with Hot Chocolate Dipping Sauce
Buy Tickets for Thursday, February 12 evening class
Buy Tickets for Saturday, February 14 daytime class
Both classes will take place at Dacor's state-of-the-art Design and Culinary Center in South San Francisco.
For more info, contact us at (415) 441-3595 or info@partiesthatcook.com.