It's Friday, and what are you doing? "Working." We know the deal. Plotting your escape from the office and the subsequent Saint Patrick's Day madness under the guise of getting things done. (If you're a legit celebrator, yes, the party starts a day early.) Before you head out to this weekend-long pub crawl in San Francisco, or any of these places in Chicago, maybe this reconstructed pub crawl in Seattle, or even this traditional pub crawl in Portland, prepare for battle by loading up on bread-y goodness. This absolutely delicious Salad of Grilled Broccolini and Ciabatta will have you feeling the luck of the Irish all day. It even comes complete with pot-o-gold raisins!
For those looking for events not primarily about the booze this weekend, not to worry. You will still enjoy this hearty bread salad featuring plenty of greens! For an extra dose of themed events, check out:  San Francisco | Chicago | Seattle | Portland
Salad of Grilled Broccolini and Ciabatta Bread with Pickled Shallots and Golden Raisins
This recipe can also be found in our Soups, Salads and Pastas Section!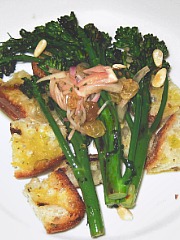 Ingredients
Pickled Shallots:
1/2 cup dry sherry
1/4 cup sherry vinegar
1/4 cup agave nectar
4 large shallots, thinly sliced
1/2 cup golden raisins
1 teaspoon chopped fresh thyme
1 1/2 teaspoons kosher salt
Vinaigrette:
2 Meyer lemons, zested and juiced (can substitute regular lemons)
4 garlic cloves, minced
2 teaspoons chopped fresh rosemary
2 teaspoons red pepper flakes
1/2 teaspoon kosher salt
1 cup olive oil
Grilled Broccolini Salad:
2 lbs. broccolini, stems trimmed
1 lb. ciabatta, sliced 1/2-inch thick
Extra virgin olive oil for garnish
Meyer Lemon wedges for garnish (can sub regular lemon)
1/4 cup pine nuts, toasted
Methods/Steps
Prepare Pickling Liquid: In a small saucepan, combine the sherry, vinegar and agave syrup and bring to a boil.
Slice Shallots: Place the thinly sliced shallots in a small heatproof bowl. Add the raisins, chopped thyme, salt and the hot pickling liquid. Cover the bowl with plastic and set aside.
Make Vinaigrette: Combine lemon zest, juice, minced garlic, chopped rosemary, red pepper flakes and salt in a medium bowl. Whisk in the olive oil.
Grill Broccolini: Heat a ridged grill pan over medium-high heat. On a sheet pan, toss the broccolini with half of the vinaigrette. Working in batches, grill the broccoli over moderate heat, turning, until lightly charred and barely tender, 5 minutes. Transfer the broccolini to a bowl, cover with foil and let steam for 5 minutes.
Grill Ciabatta: Lay the bread slices on a sheet pan and brush both sides generously with the rest of the vinaigrette. Grill the ciabatta over moderate heat until crisp, 1 minute. Cut the ciabatta into 1-inch cubes. Place back onto the sheet pan until ready to serve.
Serve: Lay out all first course plates in a single layer. Divide the grilled bread evenly among the plates. Top with the broccolini. Drain the raisins and shallots. Scatter the raisins and shallots over the broccolini. Garnish each plate with a drizzle of extra virgin olive oil, a lemon wedge and toasted pine nuts. Wipe plate rim and serve.
Serves/Makes
Serves 16
Recipe adapted by Parties That Cook® from Food and Wine Magazine June 2011.