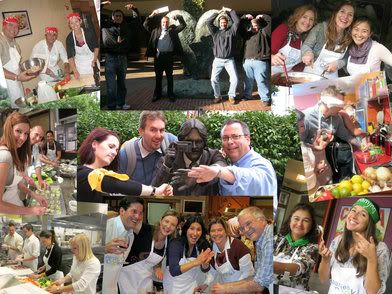 The time has come. At the end of today, July will be over. While the thought may bring a tear to your eye, now is not the time to be sad. On the contrary, my friends. We should look back at July and cherish the fond memories of all our hands-on cooking parties.
To help ourselves you do just that, we've devised a new contest launching tomorrow! Just in time. On August 1st, we invite you to check out this page, click on any photo, and scroll through a slideshow of photos from each July cooking party and corporate team building event. When you've selected a favorite, click the button under the photo and then VOTE. You'll be helping that team (anyone who attended that event) get one step closer to a sweet prize: a Parties That Cook edible care package! Hand-delivered and valued at $300, this tasty reward will go to the attendees of the event whose photo gets the most votes by 5pm on August 8th.
Get involved. Reminisce. Vote wisely – you only get ONE shot! Now please enjoy some of the entries featured below.