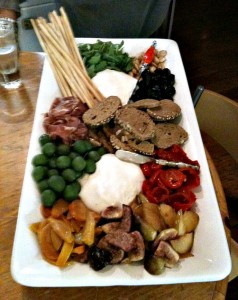 Looking to host a fantastic holiday party? You might offering a full meal, or you might just serve cocktails and nibbles for mingling guests. Either way, an appetizer platter does more than just hold over your guests 'til the main course arrives. Here's our list of must-haves for an Appetizer Platter That Pops! There's something for everyone – even Atkins dieters, healthy eaters, gluten free folks and anyone who LOVES and appreciates gourmet food! Best of all, these items are EASY to throw together. Most, if not all, of these items can be purchased at Whole Foods, but we've provided some links for online orders.
This complete list can be found online at SkinnyScoop.com
Italian Castelvetrano Olives – Buttery, rich and delectable olive. These little guys go great with a glass of wine, but can stand on their own for snacking purposes.
Peppadew Pepper – Slightly sweet and pleasantly pickled, peppadew peppers make great vehicles for simple spreads and spreadable cheeses. These peppers are versatile – stuff them with goat cheese, mozzarella, kalamata olives, feta, and more. The sky's the limit!
Burrata Cheese – Artisan cheese from Italy! Incredibly delicious when sprinkled with salt. Can't get easier than that!
Roasted or Grilled Fruit – Adds a hint of sweetness to your platter, without necessarily tasting like a dessert. In the summer grill figs, peaches or apricots tossed with olive oil on the grill until cooked but not too soft. In the fall, roast quince or persimmon in the oven tossed with olive oil and a touch of honey until soft.
Prosciutto di San Daniele – Sliced – Darker in color and sweeter in flavor than Prosciutto di Parma, it pairs wonderfully with a number of items on this plate!
Baby Arugula – A little something to balance out the stronger flavors on the plate..
Bread Sticks – Great for wrapping prosciutto and arugula around, but also great on their own – Who can argue with that??
Marcona Almonds – Originating in Spain, these pop-able bites are becoming increasingly popular in North America. Shorter, rounder, sweeter, and more delicate in texture than other varieties of almonds – What's not to love?
Judy's Breadsticks Crackers – Country Crackers are fabulous with soft cheeses such as goat cheese, and drizzled with sweetness!
Mary's Gluten Free Crackers – No to gluten, yes to flavor and health! Organic, vegan crackers with a satisfying crunch. Eating gluten free doesn't have to mean sacrificing flavor!
Can you think of your own appetizer platter must-haves? Let us know! We're always looking for more holiday cheese platter essentials.
HAPPY HOLIDAYS!