Now that you've read (and maybe even cooked your way through) Parties That Cook's Top Ten Summer Appetizers, we thought we'd provide some great entrée recipes to give your grill a work out. We compiled a list of our Ten Best Summer Entrée Recipes, and are challenging you to try as many as you can! Yes, feel free to go all "America's Test Kitchen" on these bad boys. You've only got so much time until your Fourth of July bash!
As you can probably tell, we sure love our meat. Luckily, we've got an arsenal of vegetarian alternatives for most of these dishes, and they can be found in action at our corporate team building events. We snuck in a salad recipe below, but if you'd like to see another vegetarian recipe listed, let us know!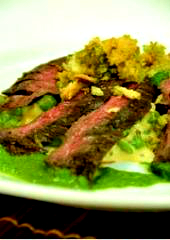 Balsamic-Marinated Grilled Skirt Steak with Herbed Bread Crumbs
We can't think of any better way to start out the summer than fresh grilled steak! Pull out your grill and throw on this juicy cut of meat. The balsamic marinade takes this steak to a whole new level!
Chicken Cooked under a Brick with Preserved Lemons, Garlic, and Herbs
We're bringing you chicken like you've never tasted — or prepared. This chicken is stuffed with minced garlic, olives, cubed preserved lemons, and a special blend of herbs before being grilled — literally under a brick!
Cinnamon and Coriander Spiced Skirt Steak
Spice up the average steak by introducing a delicious rub. This blend, with complete with cumin, black peppercorn, and cinnamon, is sure to put the "kick" in your next kick-back.
Crispy Prosciutto-Wrapped Chicken Stuffed with Fontina and Basil
Prosciutto and chicken? In the same dish? YES. This meat-lover's dream come true is loaded with flavor. You can take Chicken breast beyond the boring when you wrap it up with some fresh prosciutto. But wait, there's more! Before you wrap these puppies up you stuff them with Fontina cheese (yum!).
Grilled Chicken Skewers with Lemons and Salsa Verde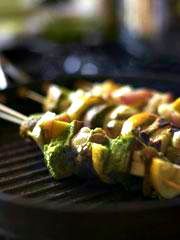 We love skewers for lazy summer days and know you'll enjoy these grilled chicken skewers as much as we do! The super fresh, super simple Salsa Verde adds the perfect, light flavor. When looking for a quick and easy summer meal, these skewers do the trick! Feel free to substitute your favorite vegetables for the chicken and enjoy  – veggie style!
Lamb T-bone steaks with Pistachio-Herb Crust
Made with T-bone steaks or with loin chops, this recipe screams summer. We use pistachios to give these steaks a special taste and texture.
Latin Spice-Rubbed Chicken with Chimichurri Sauce
This pullus (that's Latin for chicken! Aren't you impressed? Okay, I Googled it…) is rubbed in a delicious spice blend including coriander, cumin, and hot red pepper flakes. Heat up your summer in every way – this entree is sure to be a "hot item" at your next summer party!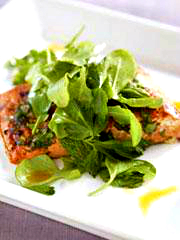 Sear-Roasted Salmon Filets with Ginger-Lime Sauce
If you're a seafood fan, you will love our Salmon Filets! From the crispy, seared crust, to the flaky center and tangy ginger-lime sauce, this recipe is a winner. Looking for a pairing dish? Try a Greek Salad for lunch or an herb risotto for dinner.
Soy-Marinated Flank Steak with Cilantro Sesame Pesto
Okay, I promise this is the LAST steak recipe on the list. We love our beef, and there are just so many ways to prepare, season, and flavor it! Marinated in a delicious soy sauce (arguably the best way to prep steak), the cilantro sesame pesto is arguably the perfect sauce to complete the dish.
Spice-Crusted Chicken Kebabs with Harissa-Yogurt Sauce
Kebabs. Who doesn't love the versatility and complete customizability of skewered foods? Salmon makes a delicious substitute if you're in the mood for seafood. In either case, the zesty Harissa-Yogurt Sauce is great for dipping. You may have just found your new go-to dipping sauce! Be sure to check back for our quick video tip on the easiest way to zest citrus!