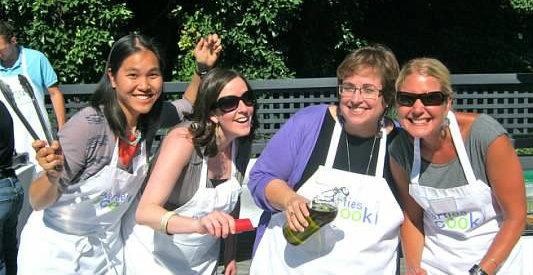 August is just around the corner. (Sigh.) While we're sad even thinking about summer fading, nothing says "end of summer party" quite like watermelon! If you're looking for a fresh and crisp recipe, look no further. This refreshing watermelon salad is packed with our favorite summer flavors like lime, cilantro, and ricotta salata. Try it out at your next backyard bash or lazy weekend afternoon. And hey – while you're savoring this versatile salad as a side dish or entree for lunch or dinner, it might just feel like the beginning of June. Who wouldn't want to turn back time?
Salad of Watermelon and Watercress with Ricotta Salata and Pine Nuts
This recipe can also be found in our Soup, Salad and Pasta Recipes Section
Ingredients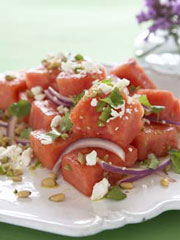 Dressing:
2 Tablespoons lime juice
1/4 cup extra virgin olive oil
1/2 teaspoon kosher salt
Salad:
6 cups seedless watermelon, cubed into 1-inch squares, rind discarded
1/4 cup red onion slices
1/2 cup green olives (like Picholine), seeded and coarsely chopped
1/2 cup cilantro leaves
1 bunch watercress
1/3 cup pine nuts, toasted
4 ounces ricotta salata cheese (can substitute feta)
Methods/Steps
Dressing: Using a whisk, mix lime juice, olive oil and kosher salt together.

Salad: Combine watermelon, red onion slices, olives, cilantro and watercress. Drizzle with half of the dressing and gently toss. Transfer salad to salad plates. Garnish with pine nuts, ricotta salata and serve immediately.
Serves/Makes
Serves 12