No meal is complete without the sweet finish line we call dessert. The Parties That Cook team of dedicated taste-testers has rounded up 10 of its favorite dessert recipes for this summer and tempting you with… well, all of them. (Sorry, waistline!) From cool ice cream to warm fruit pies, these Ten Sweet Summer Dessert Recipes will bring a smile to anyone's face! Happy Baking, Melting, Drizzling, and Devouring! Good luck sharing..
Blueberry Buckle with Aunt Polly's Hot Cream Sauce
We dare you not to drool. Blueberries are a signature summer snack and they've earned their spot as a summer staple in this delicious dessert. Add hot cream sauce (made with cinnamon, vanilla, and butter) over the top of this delicious buckle to heat up cool summer nights.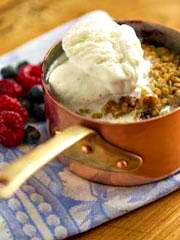 Blueberry, Raspberry and Peach Dulce De Leche Crisp
This quick and easy dessert will have your guests thinking you've spent hours in the kitchen! You better save room for this sweet crisp — wafting aromas and a filling that bubbles over will be impossible to resist! And if you really love Dulce De Leche, be sure to check out our ice cream recipe!
Mint Ice Cream with Scharffen Berger Cocoa Nibs
Take your end-of-meal mints in the form of ice cream, and add a cool ending to a warm summer day. Cocoa nibs give this dessert a bit of a crunch without being too sweet.
Quatro Leches: Sponge Cake with Four Milks and Fresh Strawberries
Your old tres leches recipe has never been so jealous. Adding fresh strawberries and mint to this unbelievably moist cake brings out the refreshing flavors we yearn for on hot summer days.
Raspberry Streusel Bars

Streusels may have become a breakfast phenomenon, but we're bringing them back to the dessert scene. Try as you might to resist their temptation, and I know from first-hand experience, these bars are deliciously addictive and perfect for any summer get-together.
Seasonal Fruit Potpies
We love a good potpie, but we especially love a sweet, seasonal, summer potpie! Your guests will love these little guys. Not only do you get to include YOUR favorite summer fruit, but these pies are the  perfect size for an individual serving (because who really wants to share their dessert!?).
Warm Lavender Tea Cake with Homemade Lemon Curd
Little did you know, lavender is more than just a candle scent. This light tea cake is the perfect afternoon treat — full of flavor, and yet tastes nothing like your favorite bath soap. The mild lemon curd adds just the right zing to wake up your dull afternoon and pulls this dessert together.
Warm Peach Pudding Cakes with Soft Whipped Cream
Nothing like the pudding snacks your mom packed for your lunch, these pudding cakes are an adult delight. You can't go wrong with a freshly baked, golden brown, ooey gooey cake (yum!).
Mini Strawberry Pop-Tarts with Lemon Glaze
Continuing on our kick of grown-up treats from our childhood, these mini pop-tarts are single servings of happiness. The lemon glaze adds a nice touch of citrus and sophistication not meant to be shared with children — unless you're really nice.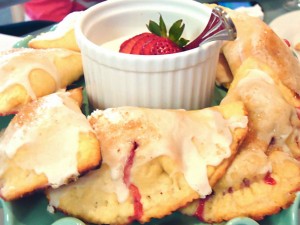 Strawberry Ruhbarb Empanadas with Brown Sugar Whipped Crème Fraiche
Bring something new to the table for your next potluck. This made-from-scratch dessert is sure to impress friends and family, neighbors and strangers. Freshly baked dough stuffed to the limit with fresh rhubarb and strawberry filling: Who could resist?
Send us pictures of your finished products and we just might include it in an upcoming blog or on our website! Tag us on Facebook at http://www.facebook.com/PartiesThatCook or tweet us your pictures @PartiesThatCook