Earlier this summer, I promised to give you all 2 tasty tried-and-true recipes. Bibby has graciously provided her mom's recipe for "Oven Sandwiches" – Hey, not everyone has access to a barbecue! Then, we stole the killer recipe for Spicy Buffalo Chicken Dip. YUM. You sure have a delicious Fourth ahead of you.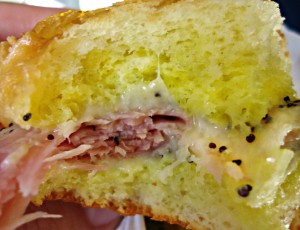 Oven Sandwiches
Ingredients:
1 stick soft unsalted butter
1 Tablespoon poppy seeds
1 Tablespoon onions, minced
2 Tablespoons mustard
8 hotdog buns
1/2 pound sliced ham or enough for 2 slices a sandwich
1/2 pound sliced swiss cheese or enough for 2 slices a sandwich
Methods/Steps:
-Preheat the oven to 350
-Mix butter, mustard, poppy seeds and onions together. Spread mixture on buns.
-Put 2 strips of ham and 2 of cheese in each bun.
-Wrap in foil. Warm the sandwiches for 15 minutes at 350 degrees.
And voila! You're done!
*Recipe courtesy of Ellen Gignilliat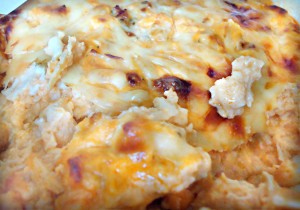 Spicy Buffalo Chicken Dip
Ingredients:
3/4 lb – 1 lb. chicken breast, cooked
8 oz. low fat cream cheese (or full fat…whatever, ;))
1/2 c. (more or less to your taste) Buffalo Sauce–We recmmend Crystal Louisana's hot sauce
1/2 c. low fat sour cream
1 tsp. Ranch packet seasoning
2 oz. (1/2 c. shredded) 2% cheddar cheese, shredded
*bleu cheese crumbles — optional/to taste (Might only use a couple Tbsp)
salt and pepper to taste
Methods/Steps:
-Finely dice chicken (or pulse in a food processor for a smoother dip). Set aside in a bowl.
-In a food processor, mix cream cheese, sour cream, and ranch seasoning until smooth–adding the hot sauce gradually to thin it out.
-Fold into chicken.
-Add shredded/crumbled cheese to taste. Adjust as necessary.
-Bake until bubbly.
-Enjoy!
*Recipe courtesy of Erica's sister.