I know it's been a while since we've taken a peek at our corporate events. Time to get back to the grind, and have some fun reminiscing about holiday cooking parties! We're going to pick up right about where we left off: Early November. We had quite the start, with 26 corporate team building events in the first couple of weeks. Seems like Christmas came early this year!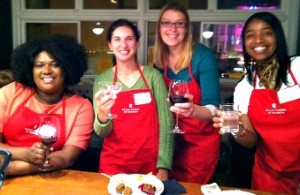 On November 2nd, Indiana University's Kelley School of Business opted to host a Small Plates event in the San Francisco venue, Cookhouse. Indiana University host, Christine Z., is no stranger to Parties That Cook events – she's hosted three over the past three years! Why does Christine keep coming back? "Great customer service and they're easy to work with." Sounds good to me! She noted that she thought this event was successful because of the laid back atmosphere (no wonder they keep picking Sumptuous Small Plates events!).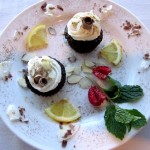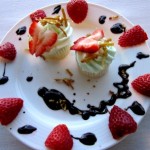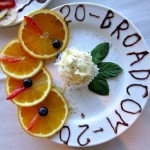 A couple of days later, on November 4th, Broadcom host Melissa D. wanted to push her team out of their comfort zone, and give them something they wouldn't be used to. With a Cupcake Wars baking competition, boy did she accomplish her goals! Lead Chef Carolyn reported that though the 32 men in this group were a little hesitant at first, it didn't take long for them to get into it. She added that they had a lot of fun and got very creative. And from the photos (some pictured here), you would think these were professional bakers! It can't get any better than a perfect score on our post-event survey!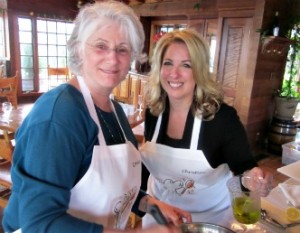 That same day, a group from the Hewlett Foundation participated in a Chef's Table group cooking event. Host Christine T. explains, "I had never done a cooking class with a group before this, so I was a little nervous about how it would work – turned out great! It was lots of fun, food was great. I'd say it was definitely a success!" She knew she wanted to host a hands-on cooking event, and went with Parties That Cook after seeing our reviews. She added that "The food was so good! Maybe too good… We were completely stuffed by the end!" Still, I must say thanks for taking that leap of faith, Christine! I'm glad we delivered "A positive experience, from beginning to end."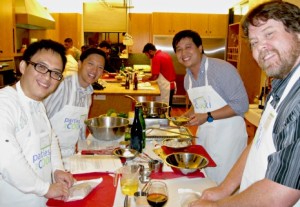 The third and final event of the day was held in a gorgeous private home with Align Technology, Inc. Host Tina B. opted for a Chef's Table after deciding that Parties That Cook had the "best of what [she] saw both in terms of referrals and online menus." After the event, she commented that the event "was very successful. We had a lot of fun and the team was great. The chef was perfect." Nicely done, Scott! It's great to hear that we live up to expectations!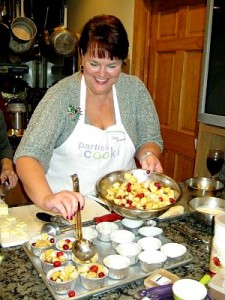 Rounding out this blog post, we have a Chicago Kitchen Challenge event for Pepsi Co. Host Linda B. actually found us by searching the internet for "team building events"! LOVE IT. According to all-star Lead Chef Heidi, "Clients loved it! The host, Linda, must've said a dozen times, 'this is awesome'. She was happy with the party from the moment that they arrived, and all the guests were thrilled at the end of the night." Linda herself echoed the report, saying, "The night was great everything exceeded our expectations. Heidi and the team were awesome leaders. The event was successful because of their leadership but also because we all came to have fun." Fantastic!
If you would like to see your event featured in a Parties That Cook blog, let us know! We'd be delighted to whip up something about your event for your company newsletter or team email!
Happy Holidays!