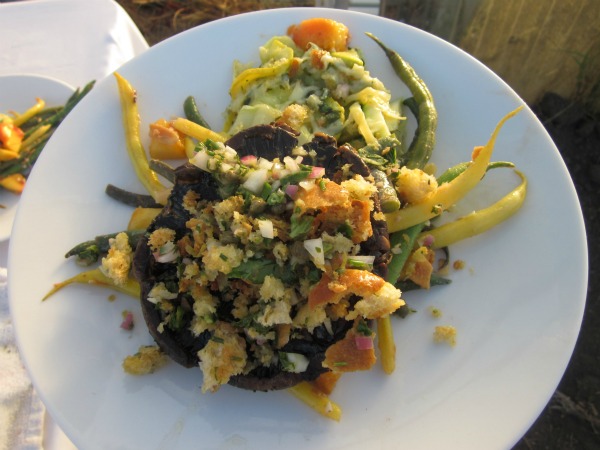 Last Saturday was Parties That Cook's first-ever Cooking Farm to Table Class. It was such a fun event that we are now even more excited for the possibilities of future Cooking Farm to Table team building events than we already were! (Who knew that was possible??)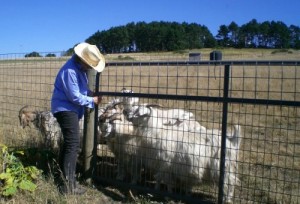 The folks at Canvas Ranch were great. Farmer Deborah gave an in-depth tour of the farm grounds, including the chicken coop where the free-range chickens dwell and the pasture where guests mingled with cashmere goats! Talk about getting "hands-on", guests were then able to pick the veggies to be used in the evening's meal. After whipping up a delicious menu that included Crostini of Goat Cheese and Tomato Jam, Balsamic Marinated Skirt Steak (or Portobello) with Herbed Breadcrumbs, Summer Squash Gratin with Salsa Verde and Gruyere, Strawberry Potpies with Buttermilk Whipped Cream, and more, guests enjoyed the "fruits of their labor" from the best seats in the house (below). What a great view!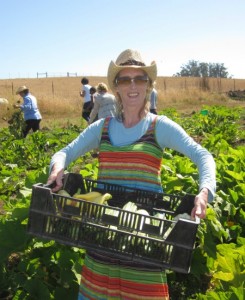 Amongst the crowd were a couple of PTC MVPs, including Director of Event and Office Operations, Rosie, and our Warehouse Manager, Melissa. We even invited our newest Event Planner, Christina, who was eager to see what Parties That Cook events are all about! We were so glad to hear such positive feedback from her, "I had such a blast yesterday — a perfect summer afternoon surrounded by new friends and delicious food at Canvas Ranch." The rest of us in the office were quite jealous of their weekend farm adventure – you might just see some other PTC faces at the next Cooking Farm-to-Table Class on September 17th! Keep on the look out for a SEATTLE Cooking Farm to Table Class currently in the works!