It's time to get excited for this Saturday's Street Food Festival in San Francisco! To help you get amped, especially for those who will not be in San Francisco to taste the delicious Columbian bites from The Arepa Lady of New York, we're giving you OUR VERY OWN recipe for Mini Arepas with Oaxaca Cheese and Jalapeno Marmalade! These fried little morsels of flavor are a favorite from our Cooking Classes — and you can catch them in action at upcoming classes in all PTC cities!
Mini Arepas with Oaxaca Cheese and Jalapeno Marmalade
This recipe can be found in our Ethnic Food and Appetizer Recipe Libraries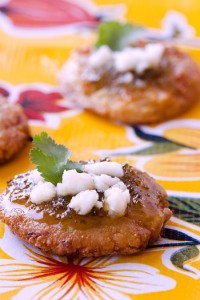 Ingredients
Arepas:
3 Tablespoons unsalted butter
1 1/4 cup milk
1 1/4 cup masa harina
1 Tablespoon granulated sugar
1 teaspoon kosher salt
1 1/2 cups Oaxaca cheese, grated, divided–half for dough and half for garnish
1/2 cup canola oil
Jalapeno Marmalade:
6 large jalapenos, stems and seeds removed
2/3 cup white vinegar
1 Tablespoon kosher salt
1 1/2 cups sugar
Cilantro for garnish
Methods/Steps
Make Arepa Dough: Preheat oven to 300°F. In a small sauce pan; melt the butter and the milk over moderately high heat. In a large bowl, mix the masa, sugar, salt, and half of the cheese together. Add the milk mixture and mix until a smooth dough forms. Cover and let the dough rest for 5 minutes.
Form Arepas: Roll the dough into little balls about the size of a large marble. Lightly flatten the balls between your palms to about a 1/4-inch thick. The flattened dough should be about the size of a silver dollar. Transfer the rounds to a sheet pan.
Fry Arepas: In a large sauté pan, heat canola oil until hot. Working in batches, add arepas to the pan (Do not overcrowd pan) and cook over moderate heat until golden on the outside but moist within, about 2 minutes per side. Transfer the cooked arepas onto a cooling rack placed over a sheet pan. Place in the oven to keep warm until ready to serve. Repeat with the remaining dough.
Make Marmalade: In a food processor, puree jalapenos, vinegar, and salt until smooth. In a small saucepan, heat jalapeno mixture on high heat and add sugar. Bring to a boil and let boil for 20 minutes, stirring occasionally. Allow mixture to cool briefly and then transfer to a small bowl.
Assemble: Remove the arepas from the oven. Spoon a dollop of marmalade into each arepa. Top with a little grated cheese and a tiny sprig of cilantro.
Serves/Makes
Makes about 24 Arepas
Recipe created by Parties That Cook | www.PartiesThatCook.com