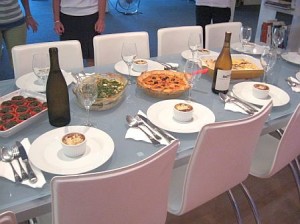 The scent wafting throughout the office caused my mouth to water and stomach to growl- I immediately knew there was nowhere else I wanted to be.  The PTC Cookbook Club convened Tuesday afternoon for a savory meal from Julia Child's Mastering the Art of French Cooking.
Coined "Lady with the Ladle" in the mid '60s by Time magazine, Julia Child is, was, and will always be a favorite culinary icon.  Her recipes offer step-by-step instructions and detailed illustrations for the novice foodie, skilled chef, and everyone in between.  With Julie & Julia currently in theaters, Parties That Cook wanted to get in on the celebration of French cookery.  Our friends from Rickshaw Bagworks joined us as we feasted on our delectable dishes.
Onion Soup– Perhaps one of my favorite soups, this version was particularly tasty.  Beth shortened the prep and cooking time of the recipe down to one hour.  Because it was made with a roux, the consistency was a bit thicker.  The melted gruyère cheese (need I say more?) hit both my sweet and salty teeth alike.  Topped off with cognac, the broth was rich and delicious.
Wax Beans Braised with Onions, Lettuce, and Cream– Before we sat down to enjoy our feast, Crissy declared that she was "not anticipating greatness" from her green beans.  However, we were all pleasantly surprised despite the aforementioned warning.  Crissy substituted wax beans for Romano beans and decided the lengthy bake time could be shortened for a quicker, simpler dish.
Fresh Tomato Quiche with Anchovies and Olives– Not as 'eggy' as most quiche, the anchovies, tomatoes and onions in this dish certainly hit the spot.  I absolutely could have snacked on the flaky crust all afternoon.  The flavor from the butter and flakiness from the shortening made for one scrumptious crust.  Julia devotes nine pages and tips such as using "the heel of one hand, not the palm" to create the perfect crust.  Rosie noted that the quiche could have been kept in the oven a little longer, so the bottom could have cooked a bit more.
Tomatoes Stuffed with Bread Crumbs, Herbs, and Garlic– Everyone enjoyed the tasty, classic dish that Michelene whipped up.  Julia declares "crumbs from fresh white bread with body" be used in this recipe, however everyone felt that day-old bread would be just fine.
Chicken Breasts with Mushrooms and Cream– One word: butter.  And oh how it was worth all ten tablespoons.  The sauce was creamy and divine- I had to resist all temptation of slathering it all over my plate.  Bibby's dish had to be edited since the recipe's cooking time was too short.  With a few minor adjustments, this dish could be reworked into dinner favorite.
Chocolate Mousse– Erin thought she was choosing an easy recipe, but such was not the case.  Despite a couple of minor bumps along the way, the rich dessert was beautiful and delicious.  The tiny bites of glazed, sweet tangelo peels were a favorite.
Upside-down Apple Tart– We all devoured this sweet and tart dessert.  Caroline had extra freshly picked apples and put them to excellent use in this tasty treat.  The homemade whipped cream topped off her creation and made for the perfect ending to a hearty lunch.
See you next month for another PTC Cookbook Club!  Be sure to bring a bottle of your favorite wine and join us as we master the art of French cooking- Parties That Cook style!  Sign up for our Julie & Julia Cooking Class as we celebrate Julia Child's delightful recipes.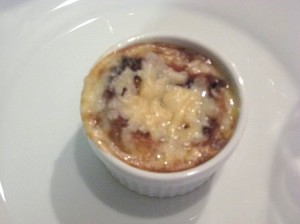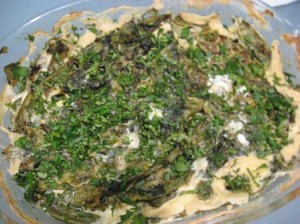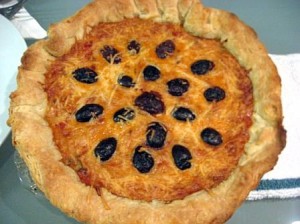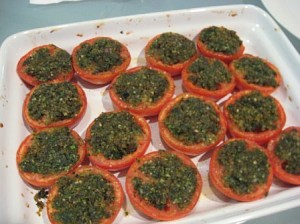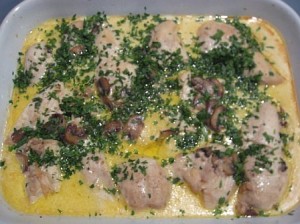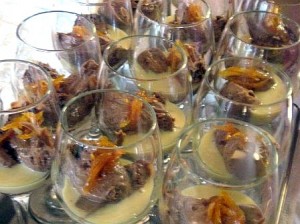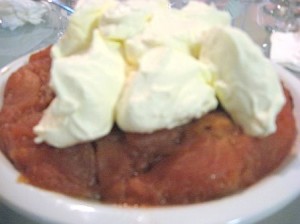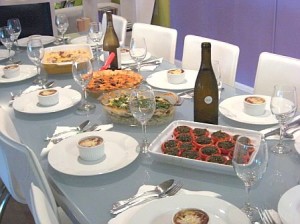 Contributed by Krystal Shih