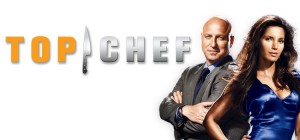 This weeks Top Chef was really touching. Every chef had a bit of a struggle with the Quick Fire challenge and even the viewers were humbled by the chefs cooking a spread for the men and women of the Air Force. As I watched each of the chefs speak, I realized that they are all executive chefs, own their own restaurants, or have worked in a big name restaurant. They face incredibly harsh criticism from the judges and to the audience, it seems like they must have made an inedible dish. The show must be taken with a grain of salt because all of the contestants deserve a round of applause for beating out hundreds of other star chefs to make it where they are in the competition. That being said, let's get down to our reactions of this weeks episode.
One of my favorite parts of the show was at the very beginning of the episode. Jesse spoke up and said she could do better than the bottom spots she was receiving for her dishes. She knows she is a better chef and can hold her own in the kitchen. This was exciting because I closed my last blog post saying she needed more confidence. Either she's reading my blog (Hi Jesse!) or she had some solid self-reflective moments. On the flip side, Laurine, Preeti, and Jesse are in a cursed room. Seriously. Both of the contestants who have been voted off were in their room. Move. Out.
The guest judge for this weeks competition was Mark Peel, an accomplished Californian chef, author of Classic Family Dinners, and even a Top Chef Masters contestant. It's great to have a Masters contestant judging because they have common ground with the chefs and can empathize with the current contestants. He introduces the Quick Fire by saying that he started out in Wolfgang Puck's kitchen as the vegetable boy: potato in one hand, knife in the other. Hence, the challenge being to create an "out of this world" dish featuring the cornucopia of potatoes on the table behind him. It didn't occur to me until Jennifer said it, but cooking potatoes in 45 minutes is an incredibly challenging task.
Other than a few snags, Preeti blanches in Ashley's water, the ice cream maker for Ash turns out to be incredibly slow, and Jesse's soup turns out too spicy, everyone's dishes come out, looking perfect, on time. Mark's least favorites were Eli's Yam and faux mushroom concoction (too sweet and Padma found a pistachio shell), Ron's bland yams on top of slightly overcooked fish, and Jesse's heavy hand with the cayenne. His favorites were Jennifer, whose mussels and potatoes were a good combination of flavor, texture, and color, Ash's custard that was very nicely flavored and seasoned, and Ashley, who cooked her mushrooms perfectly, which enhanced the flavor and paired well with the gnocchi.
Jennifer wins the Quick Fire, and immunity for the Elimination Challenge. Mike is an idiot, yet again, and claims that she won just because it's favoritism (even though she had never met Mark Peel) and that he will get her someday. I actually scoffed.
To announce the elimination challenge, a Colonel from the Nellis Air Force Base informs them that they will create a meal for 300 air men and women at the base. Many of them have just returned from combat overseas, and others are about to deploy. The catch is that they will not be seeing the kitchen, or know the ingredients until the following day. When they get back to the house, the chefs decide on a game plan. Because of her immunity, Jennifer will be the head chef, making sure everything is getting down on time and up to par. The rest of the 14 contestants will split into 7 teams of two, each pair making a dish.
The next morning, the chefs rise bright and early to find a kitchen with canned food (Mattin exclaims, "I am not good with food can!"), spam, and no stoves or pots and pans. Regardless of less than perfect conditions, each pair splits up and gets to work on their dishes.
Mike and Michael choose to do a Braised Pork Belly with Soy-Mustard Sauce and Peanuts. Michael seems to have the meat under control so Mike decides to do a salad. He puts together a Greek Salad with Cucumbers, Chickpeas, Olives, and Olive-Oil Poached Shrimp. Preeti and Laurine made a vegetarian item; Pasta Salad with Broccoli, Peppers, Sun-Dried Tomatoes, and Artichoke Hearts. Jesse and Ron heat it up with a New England Clam Chowder with Roasted Corn. Hector and Robin go back to Hector's roots with a Three-Bean Chili with Roasted Chicken. Eli and Kevin summon their Atlanta style and pull together a Braised Pork Shoulder and Potato Salad. Bryan and Mattin pull off a "Franco-American" Roasted Beef Strip Loin with Mushroom Demi-Glace and a Cauliflower Gratin. Ashley and Ash satisfy everyone's sweet tooth with a Chocolate Bread Pudding with Peanut Butter Sauce.
Padma described everything as 'yummy' right after she showed up in a tight leopard dress to an air hangar with world-class Air Force men and women and their families.
The judges favorites were Mike and Michael, and Eli and Kevin.
Eli and Kevin really nailed the Southern tradition; their pork was braised beautifully and the airmen loved it. Many of the people eating the Potato Salad said it reminded them of the one that their grandmother/aunt/mother made perfectly back home. Mike and Michael were incredibly innovative with how they used smoked, slabbed bacon. Mike admits that it was fully Michael's dish, and because Michael had it under control, Mike went ahead with the salad. The winner is Michael, from his flavors to his execution, the judges and the men and women of the Air Force loved it. The judges then tell Mike that he is to come back for the losing Judge's Table and to bring Preeti and Laurine as well.
As soon as the three contestants entered into the room, Mike was visibly angry. His dish was under-seasoned, and his shrimp undercooked. It seemed like he didn't even care about it and that it was just a throwaway dish. Padma says he shouldn't have served it and Mike looks like he is going to cry. The judges turn to Preeti and Laurine and immediately try to make them incriminate each other. They ask who came up with the idea, and who they think should go home because of it. Laurine knew the folly of the day's challenge, but Preeti stuck to her guns and insisted that her dish was better than some of the others; that hers was just as creative as clam chowder on a hot day. I began to feel bad for these two because the judges were relentless. I felt that they were judging them as if on trial for a heinous crime. It was a little bit frustrating and I believe the judges could have had a little bit more grace. They sent Preeti home and she tells the camera that she's learned what really matters to her and that is the customer. She doesn't make what she really wants to make, she makes what she believes the customer wants. She is still inspired and loves what she does. She can't imagine doing anything else with her life.
All in all, the episode was another day under the Vegas heat and beneath the burning gaze of judges. Laurine and Jesse's room really is cursed because everyone residing in that room has gone home, and Mike got a well deserved reality check. Next week looks to be intense, with a challenge of serving to a table of some of the best French chefs in the world, and an elimination as a result of the Quick Fire. Cheers to our favorite cheftestants, fight on!
Special thanks to Sadé from 360i for sending us an exciting preview of this weeks episode and getting us fired up for a deliciously fun week!
Contributed by Leigh Hermansen