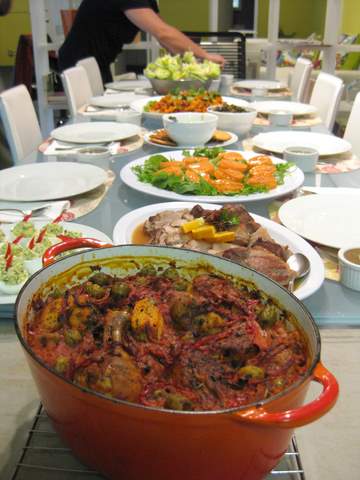 Organic Marin: Recipes from Land to Table was nominated by Erin for this month's PTC office Cookbook Club lunch.
This uniquely Californian cookbook focuses in on local farms in Marin County with recipes from nearby star restaurants.
Recipes are divided by season and feature the produce and meats harvested at that time.
Participants were encouraged to shop locally in the theme of "land to table."
For Starters, we munched on:
Carrot Flan with Peppercress & Mustard Vinaigrette – Erin picked out super sweet carrots from her farmers market. The freshness of the carrots made a world of difference, and were so sweet that they made this flan more of a dessert than a first course. Erin was exhausted from the juicing process, but rewarded in the end with a creamy, bright orange flan.
Roasted Wild Mushroom Soup with Creme Fraiche – Lauren chose porcini and cremini for the hearty vegetable soup. The recipe wasn't specific about how much to blend the soup, so Lauren pureed until creamy. The resultant soup wasn't the most beautiful color, but boasted tons of mushroomy flavor.

Iceberg Wedges with Blue Cheese Dressing – Presentation proved paramount for LeRoid's deconstructed salad. He delicately speared Iceberg onto skewers and stood them pertly in a silver bowl of ice with dressing and pancetta on-the-side. LeRoid noted the importance of using local artisan cheese Point Reyes Blue for the dressing, which was so delicious that he furtively poured it over most of the dishes on his plate.
Crab Deviled Eggs – Newcomer Liz wowed us all with her creative plating of deviled eggs. Instead of slicing the eggs pole-to-pole, she sliced along the equator. Liz was a bit disappointed with the texture of the yolk and crab filling and suggested the filling might taste better on a crunchy cracker or with celery added.
The Main Courses:
Tunisian Vegetable Tagine – Everyone enjoyed Bibby's vegetarian main course and found it to be flavorful and satisfying. Bibby followed the recipe, and added a cinnamon stick to add flavor to the couscous. She also streamlined the couscous by cooking it like a steamed rice – in a baking pan filled with hot water and covered, then fluffed.
Blood Orange & Star Anise-Braised Pork – Crissy was pleased with the flavors and tender texture of her braised pork shoulder. The sauce however did not thicken with reduction and sat in a pool around the pork slices. In hindsight, Crissy thinks the recipe would be best reorganized as a stew, where the vegetables used in the braising process would be kept and broth could be properly mopped up with a baguette.
Arroz con Pollo – Michelene tried her hand at this famous Latin chicken and rice dish. She was pleased with the flavor and ease of making. Tanya thought the recipe was good, but lacked one ingredient she thinks is a mandatory… vinegar!
On the side:
Cavolo Nero (Tuscan Braised Kale) – Christina thought the recipe was simple and great as a vegetable side for winter. Red pepper flakes offered a nice spiciness. The only addition Christina mentioned was perhaps braising in chicken broth instead of water for added flavor.
Plantains Stuffed with Ground Beef – Tanya tried this recipe out to compare with her own family recipe. Though she still prefers her own "secret" recipe, she liked the recipe's suggestion to boat the plantains lengthwise for stuffing, instead of slicing and layering like lasagna (as is the traditional format).
For dessert:
Double-Chocolate Bread Pudding – Lead Chef Mick gave Rosie's dessert a big thumbs up for its chocolate-on-chocolate goodness. Instead of using milk and dark chocolates as the recipe calls for, Rosie used dark and bittersweet… a decision most of us applauded as dark-fiends. The texture of the bread pudding was moist and rich with chocolate. We love it was (somewhat excessively) topped with more molten chocolate sauce. A true treat for chocoholics!