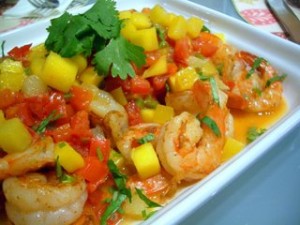 For December's meeting of the Parties That Cook's Cookbook Club, we perused the pages of Simple to Spectacular: How to Take One Basic Recipe to Four Levels of Sophistication, written by Jean Georges Vongerichten and Minimalist Mark Bittman.
As the title suggests, this book focuses on a dish and offers variations on the dish with increasing culinary levels of difficulty. A very delicious concept, we thought!
Being a mixed bunch of chefs and home cooks, we each self-selected our level of difficulty and created seven dishes in total:
Rosie tackled homemade pasta for Cannelloni with Potatoes and Arugula. The sharp flavor arugula stood out in this vegetarian pasta dish. Rosie was surprised at the volume of pasta dough the recipe made – far more than would fit in her full-size baking dish with conservatively wrapped cannellonis.
Crissy headed for the "spectacular" end of the spectrum with Shrimp with Spicy Beurre Noisette, Mango and Tomato. The dish was a wonderful burst of colors, but met mixed reviews in terms of flavor which we thought an odd blend of browned butter and Caribbean flavors.
Bibby continued her homage to short ribs with Beef Short Ribs in Red Wine. Since she was working with large full-sized ribs, Bibby doubled the cooking time and added a bed of egg noodles to thoroughly enjoy the delicious red wine sauce.
Lauren opted for the "simple" with a Tarte Flambee recipe topped with fromage blanc and bacon (and ready made puffed-pastry dough). Unfortunately her convection-style oven took forever to properly puff the pastry, but we're certain it would be fine in a conventional oven. Everyone loved the rich tarte, which ate like a pizza.
LeRoid whipped up Sauteed Chicken Chunks with Harissa and Couscous. It was his first attempt at using harissa, but a surprisingly successful one.
For dessert, Christina made the delicious Caramelized Walnut Tart. She struggled a bit with creating almond powder for the crust sans a food processor (she harnessed her own brute force for the job). The result: one of the favorite dishes of the day. We like its non-chewy texture, unlike the traditional nut pies. Bibby also contributed the Caramel Ice Cream with Peanut Brittle, which paired perfectly with the already decadent finish.