The new year can be a complicated time for most – packed with spectacular celebrations and brooding introspection. If you make just one resolution this year, I hope it will be to eat well and healthfully. This week's guest blogger, Miss Meat and Potatoes, will help you ease across the treacherous bridge from caviar to cabbage soup with her recipe for New Year's Resolution Pasta.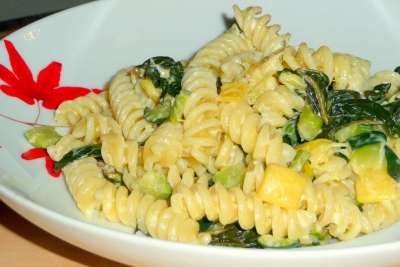 One of my sisters made a lovely little side dish when I was back in Texas. She cracks me up, as she will only cook vegetables that she can chop with her handy 'chopper.' She was also adamant about the fact that she only likes sauteed vegetables that are cut into uniform, tiny little pieces. I nodded along thinking 'to each their own' until I took a bite.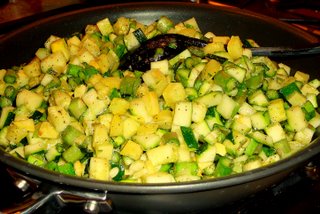 She was right – the sauteed zuchinni, squash, and asparagus were delicious in these little half inch dices. They were perfectly sauteed but still had a little crunch to them. I made the same side dish as soon as we got home and used the leftovers in a light pasta dish I thought fit the bill of what we all want this time of year – less 'excess' in our diets and healthier livers.
I personally don't make New Year's resolutions, but eating this made me feel just the tiniest bit ahead of the game, which is nice given the fact you never know what Karma has in store for you.
New Year's Resolution Pasta:
3/4 pound spiral pasta (you could use any pasta you want)
2 heaping tablespoons kosher or sea salt, to salt your pasta water
2 small zuchinni, cut into small, half inch dices
1 medium yellow squash (half in dices)
8 asparagus, trimmed of their 'woody ends' and cut into half inch pieces
2 cloves of garlic, smashed
olive oil
salt and pepper to season
dash nutmeg
3 oz goat cheese, broken up into bits with your fingers, plus extra if desired for serving
1/4 cup pistachios
2 large handfuls fresh basil, washed and patted dry (roughly chopped if desired – I leave them whole)
In a medium saute pan (NON stick if you have it), heat up a couple of tablespoons olive oil. Add your zuchinni, squash, garlic and asparagus, season with salt and pepper and a tiniest pinch of nutmeg, and saute stirring occasionally (should only need about 15 minutes.) You can remove the garlic at this point of give it a chop and keep it in – it's up to you.
Meanwhile, heat up a large pot of water over high heat for your pasta. When it comes to a boil, add your salt, stir well, then tip in pasta. Cook until al dente, about 8 minutes, then strain with a spider or slotted spoon adding it to your sauteed veggies. Add a little more olive oil (about a tablespoon) and the goat cheese stirring until it begins to melt in. Add a ladle full of your pasta water to help create a sauce and ease the melting process, then your basil and pistachios.
Taste for salt, adding more if necessary, and serve with extra goat cheese crumbled on top.
To explore more divine recipes from Miss Meat and Potatoes, check out her blog The Meat and Potatoes Foodie. It is not to be missed!