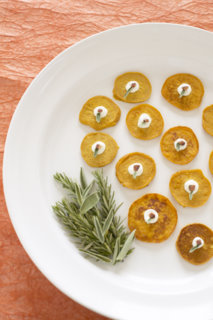 A festive holiday appetizer & cocktail party can be a fabulous, inexpensive alternative to hosting a dinner party or going out to a restaurant.
At our Holiday Appetizer Cooking Class this Thursday (12/4) in downtown San Francisco, we'll show you how to whip up impressive party bites like these Sweet Potato and Bacon Galettes with Sage Creme Fraiche.
Plus, enjoy free champagne while you cook!
~ Holiday Appetizer Cooking Class ~
Thursday, December 4, 2008 6 – 8:30 pm
Sur La Table Union Square
77 Maiden Lane, San Francisco CA 94108
$85 per person | BUY TICKETS
On the menu for the evening are six of our favorite holiday appetizers:
Sweet Potato Galettes With Sage Creme Fraiche
Polpettini: Little Meatballs With Melted Fontina Centers
Ahi Tuna Tartare In Sesame Won Ton Cups
Coconut-Crusted Shrimp With Tamarind-Ginger Sauce
Wild Mushroom Crostini with Stilton and Thyme
Mini Meyer Lemon Cupcakes with Cream Cheese Frosting
In addition to learning to cook these recipes hands-on, you'll enjoy a sit-down meal and take home the recipes! Pair this spread with a signature cocktail and a couple beer/wine options, and you have the recipe for a fantastic cocktail appetizer party for 20-30 guests!
Looking for more entertaining tips that will save you some dough this season? Check out our blog entry: Tips for the Savvy Party Hostess.
To buy tickets for this Thursday's Holiday Appetizer Cooking Class in San Francisco visit: