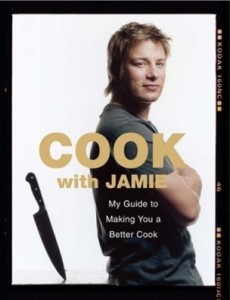 Jamie Oliver aka the Naked Chef is a longtime TV favorite of mine. His charming cooking style – a sort of renegade British hippie meets the farmers market, propels him to shabby chic culinary feats like smoking fish in old cigar tins and pickling peppers for post-pub late night grub. Pepper in Brit-isms (nosh, knob, sodding, bloke, flat, bangers), cheeky Jamie sliding down the staircase banister to greet guests, and voila! I call that quality TV.
At this month's meeting of the Cookbook Club, we decided on a romp through Jamie Oliver's newish cookbook, Cook With Jamie: My Guide to Making You a Better Cook. An ode to the Fifteen Foundation, all proceeds from the book go toward this charity by which Jamie trains disadvantaged youngsters to become chefs and run their own branch of Fifteen Restaurant. The book itself claims to be Jamie's Fifteen program training manual for "modern-day cooking."
On the menu, 9 dishes and 9 hungry people, including our newest Parties That Cook team member, LeRoid David. We welcome LeRoid as a fellow foodie and new Office and Event Logistics Manager.
Mad Moroccan Lamb – The favorite dish, hands-down. A hearty casserole dish of roasted lamb shoulder buried in a bed of seasoned couscous, chickpeas, fruits and lemons. Tanya, a trained chef, had no problem with Jamie's loose "glug of" this-and-that recipe, but thought beginner chefs might get lost in the non-succinct directions that read like an essay. Lucky for us, Tanya knows how to read like a chef.
Herby Gnocchi with Arugula and Butter Sauce – Wonderful flavor, but not great texture. Crissy realized at the last minute that she owns neither a ricer or a food mill, so she grated the potatoes by hand. After all of her hard work, her gnocchi was a bit too wet – we wonder if it was the grating or the recipe, which included a bunch of chopped arugula, contributing to the wet factor.
Spicy Pangrattato Risotto – If you're looking for a giant mixing bowl risotto, this is your recipe. Rosie whipped up just one batch of this recipe and churned out enough to feed an army! The simple breadcrumb topped risotto had a nice cheesy, garlic-y flavor and pleasing contrast of textures. Rosie found that you need quite a bit of olive oil (not just a "splash" as the recipe states) to crisp up the volume of breadcrumb mixture.
Zucchini Fritters – Christina laughed at the irony of Jamie's commentary on this recipe, where he states "I wasn't sure if it would work but it did." In her own kitchen, Christina match-sticked her zucchini, mixed and fried – only to find her fritters oozing across her non-stick pan (yes, the recipe said to use a non-stick pan!). After increasing the binding ingredients and switching pans, Christina finally remedied the issue. But, the flavor probably isn't worth the hassle.
Indian Style Broccoli with Spiced Yogurt – A fine and solid vegetable side dish, Shanti opted to steam and char rather than boil the broccoli to preserve crunch. We all agreed roasting the broccoli would also be a great option.
Southern Indian Crab Curry – Bibby opted for this spicy treat. We loved the flavors, but overall it was on the salty side – possibly due to the type of crab meat used. Dungeness crab would probably work best to bring out the sweet and spicy contrasts of the dish. Instead of rice, Bibby served the crab mixed with thin rice noodles – a great combo. Egg noodles would also be another starch option.
The Best Onion Gratin – Bibby also baked up this creamy and cheesy gratin dish – another favorite at the table. Not for the health conscientious, Bibby pumped up the volume of cheese and cream in the recipe – a decision none of us argued with!
Pear Tarte Tatin – Lauren tackled a simple skillet-cooked tatin. Not a trained chef herself, Lauren struggled with Jamie's non-existent instructions for making the caramel sauce. Luckily she did not burn the sauce and calculated correctly that the pears would need to be cooked far longer than the 5 minutes prescribed. All in all everyone loved the tatin, which came out perfectly golden and delicious.
"Proper Custard" Ice Cream – Michelene whipped up a batch of Jamie's Proper Custard, which then gets whisked into ice cream. The creamy, rich and delicious scoop was further punctuated by a hint of cinnamon. Michelene followed the custard recipe to a T, but had a little trouble with ice crystals forming in the freezing process. The recipe also doesn't explain when to stir in spices/flavorings. Still, a perfect accompaniment to the pear tatin.